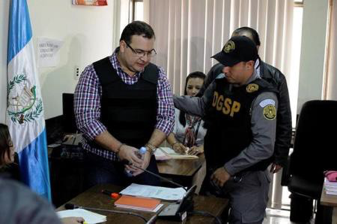 05/8/17 (written by Lucy Clement La Rosa) – The Guatemalan National Civil Police (Policía Nacional Civil, PNC) detained former governor of Mexico's Veracruz state, Javier Duarte de Ochoa, on the evening of April 15 in Panajachel, Sololá, Guatemala. Duarte has been a fugitive of Mexico since October 2016, evading allegations of money laundering by the federal Attorney General's Office of Mexico (Procuraduría General de la República, PGR).
According to Manuel Noriega, deputy director of Interpol in Guatemala, Duarte was found at a hotel in Panajachel. Mexican officials informed Duarte that he had been found and requested that he give himself up to the Guatemalan authorities. Duarte did so voluntarily. Observing diplomatic relations with the PGR, the detention was conducted as a joint operation between the PNC and Guatemala's Interpol office.
Duarte was taken to the military prison, Matamoros, in Guatemala City. He will remain there until Mexico presents a formal request for extradition to the federal Attorney General's office of Guatemala. Mexico will have 60 days to request Duarte's extradition. The PGR released information on the day of Duarte's arrest confirming that they intend to pursue extradition. Furthermore, the ruling Institutional Revolutionary Party (Partido Revolucionario Institucional, PRI) expressed their public support of the Guatemalan authorities and their role in detaining Duarte.
Duarte is not the only PRI-affiliated politician that has been charged with allegations of corruption in recent weeks. Former Mexican state governor of Tamaulipas, Tomás Yarrington, was captured in early April by Italian authorities on charges of corruption in response to a U.S. extradition request, which was an embarrassment to Mexican authorities. César Duarte, who was also wanted for similar charges of corruption was captured just a week later by Mexican authorities.
Institutional Corruption in Mexico
Since disappearing six months ago, Duarte became a regional symbol of institutional corruption in Mexico. A former public official of the PRI, Duarte was accused of corruption and misappropriating state funds through his position in public office. The PGR began investigating these accusations in July of 2016.
By September, Mexican authorities believed that Duarte used false identities and phantom companies to relocate public funds for personal benefit, which included acquiring over a dozen vacation homes. One month later, local congressional authorities reported that financial irregularities tied to Duarte's dealings in 2015 accounted for more than $16,000 million Mexican pesos (about $850 million USD).
Duarte, who served as governor of Veracruz for nearly six years, resigned on October 12, 2016. One week later, a federal judge issued a warrant for his arrest. Although he publicly denied all charges, Duarte fled Mexico before he could be detained.
Duarte was expelled from the PRI on October 25, 2016 and soon after; the PGR offered $15 million pesos for information leading to his whereabouts. Additionally, President Enrique Peña Nieto condemned Duarte's actions before Mexico's Supreme Court of the Nation (Suprema Corte de Justicia de la Nación).
Although Javier Duarte has not denied the allegations pursuant to his imminent extradition, he has refused immediate and voluntary repatriation, requesting that Mexico formally pursue his extradition. According to César García, the Guatemalan judge presiding over Duarte's extradition, this process may take anywhere from four to six months.
Sources
Malkin, Elisabeth and Paulina Villegas. "Warrant for Mexican Ex-Official, Now on the Run, Is Seen as a Step in Graft Fight. The New York Times. October 20, 2016.
"Javier Duarte, exgobernador prófugo de Veracruz, fue detenido en Guatemala." Univisión. April 15, 2017.
"Fugitive Mexican Ex-Gov. Javier Duarte Detained in Guatemala." The New York Times. April 15,2017.

"Javier Duarte, exgobernador de Veracruz, capturado en Guatemala, fue recluido en Matamoros. "Prensa Libre. April 16, 2017.
"Javier Duarte, recluido en cárcel militar Matamoros, Guatemala." Diario de Xalapa. April 16, 2017.
Ramos, Jerson and Mynor Toc. "Javier Duarte rechaza ser extraditado a México." Prensa Libre. April 19, 2017.
"La detención de Javier Duarte, lo más viral de la semana." El Universal. April 22, 2017.