05/03/2023 (written by jcarrillo) – On April 12th, a Mexican delegation led by Rosa Icela Rodríguez, the Secretary of Security and Citizen Protection (Secretaria de Seguridad y Protección Ciudadana), visited Washington D.C. to discuss fentanyl and firearms trafficking with U.S. counterparts. Additionally, the delegation discussed the security priorities laid out in the Bicentennial Framework. The Bicentennial Framework, signed in 2021, is a partnership between Mexico and the United States that aims to protect the safety of their countries through three main shared goals: protect their people, prevent transborder crime, and pursue criminal networks1. Additionally, the two delegations focused their conversation on "disrupting the fentanyl supply chain" and targeting the Sinaloa Cartel and the Cartel de Jalisco Nueva Generación.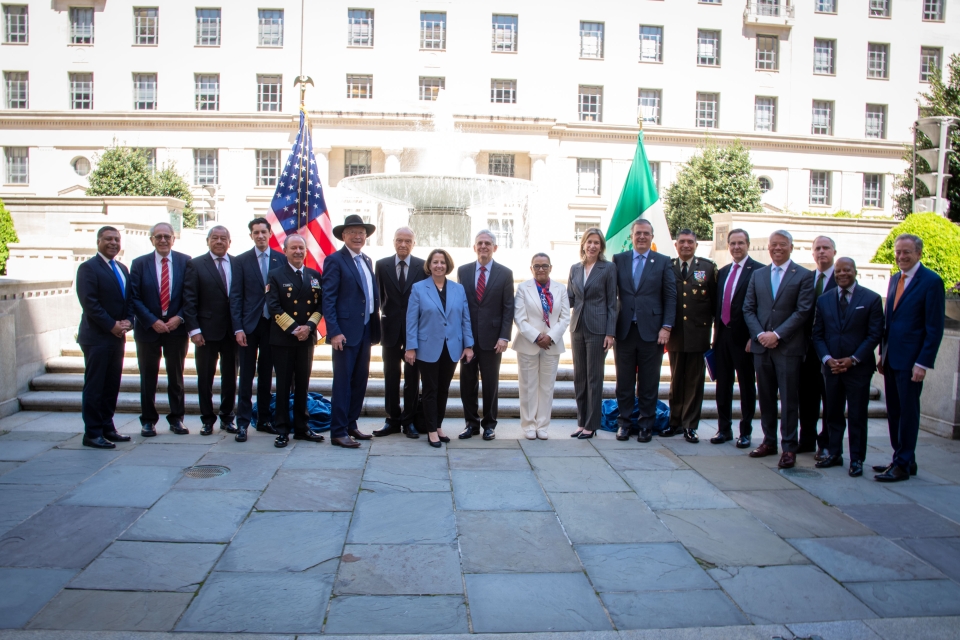 Along with their commitment against illicit drug trafficking within the Framework, both governments agreed to cooperate on combating arms trafficking at the southern border. A major priority for Mexico, it is reported that around 200,000 firearms are trafficked from the United States to Mexico annually (NPR). The U.S. Department of Justice and the Bureau of Alcohol, Tobacco, Firearms and Explosives have agreed to allocate resources and personnel to cooperate with Mexican counterparts to identify sources of firearm trafficking from the United States to Mexico. Additionally, the U.S. Department of Homeland Security committed to increasing weapons seizures. Firearms trafficked into Mexico to cartels are commonly used against local law enforcement and decrease the ability of law enforcement to enforce rule of law. The bilateral commitment comes after Mexico recently appealed the $10 billion lawsuit they brought against U.S. gun manufacturers for firearms trafficking last year (Reuters).
Calling for public campaigns amongst youth population
The bilateral meeting also addressed the need for public health campaigns regarding the dangers of fentanyl. A joint statement released by both governments shared their commitment to preventing drug abuse among youth populations. They discussed creating a "binational panel of experts" to exchange information and effective practices to reduce substance use. Mexico and the United States agreed on creating a "bilingual [and] binational public awareness prevention campaign". Both countries agreed to build onto their respective administrations' efforts to curb fentanyl use among young people.
Special presidential commission created in order to address surge in fentanyl trafficking
Ahead of the Mexican delegation visiting Washington in April, President Andrés Manuel López Obrador announced the creation of a presidential commission to fight fentanyl and firearms trafficking. The commission will be headed by Rodríguez and members of the Secretaría de Seguridad y Protección Ciudadana. The special commission was designed to encourage the exchange of information between the three branches of government. Its statement in the Federal Gazette lists the powers given to the commission to execute its intended purpose.
1Justice in Mexico's OASIS program receives funds from the International Narcotics and Law Enforcement Affairs (INL) to support the mission of the Framework.
Sources
Ainsley, Julia. "Biden administration announces plan with Mexico to fight fentanyl and firearms". NBC News. April 14, 2023.
"Joint Statement from Mexico and the United States on the Implementation of the U.S.-Mexico Bicentennial Framework for Security, Public Health, and Safe Communities". The White House. April 13, 2023.
"Países atenderán tráfico de drogas y control de armas a partir de cooperación, no del sometimiento, afirma presidente". Gobierno de México. April 12, 2023.
"Biden-Harris Administration Launches Campaign to Raise Awareness About the Dangers of Fentanyl and the Life-Saving Effects of Naloxone in Partnership with the Aid Council". The White House. April 6, 2023.
"US states, Caribbean nations back Mexico's appeal in arms lawsuit". Reuters. March 22, 2023.

"FACT SHEET: Biden-Harris Administration Announces Strengthened Approach to Crack Down on Illicit Fentanyl Supply Chains". The White House. April 11, 2023.
"The Foreign Secretary arrives in Washington, DC to participate in high-level security meeting with US and Canadian officials". Gobierno de México. April 12, 2023.
"Readout of Attorney General Merrick B. Garland and Deputy Attorney General Lisa O. Monaco Meeting with Security Cabinet of the Government of Mexico". Department of Justice, Office of Public Affairs. April 12, 2023.