05/18/18 (by Octavio Rodríguez Ferreira and David A. Shirk) — Justice in Mexico has released a new Spanish translation of "The Resurgence of Violent Crime in Tijuana" by Jaime Arredondo, Zulia Orozco, Octavio Rodríguez Ferreira, and David A. Shirk.
The publication provides an assessment of the recent resurgence of violent crime in the Mexican border city of Tijuana in the state of Baja California. Drawing on the latest available information and statistics, the authors examine the varied trends in the major categories of violent crimes in Tijuana: homicide, assault, robbery, extortion, kidnapping, rape, and other sex crimes.
Below you will find a detailed summary of the report in Spanish. For a detailed summary in English, click here.
Descargar "El Resurgimiento del Crimen Violento en Tijuana"
Análisis: El Resurgimiento del Crimen Violento en Tijuana
El análisis del programa Justicia en México de la Universidad de San Diego, elaborado por de Jaime Arredondo Sánchez Lira, Zulia Orozco, Octavio Rodríguez Ferreira y David A. Shirk, bajo el título "El Resurgimiento del Crimen Violento en Tijuana" proporciona una evaluación del reciente incremento de delitos con violencia en la ciudad fronteriza del estado de Baja California. Basándose en la información y las estadísticas disponibles más recientes los autores examinan las distintas tendencias de las principales categorías de delitos violentos en Tijuana: homicidio, asalto, robo, extorsión, secuestro, violación y otros delitos sexuales.
Según la Secretaría de Seguridad Pública del Estado de Baja California, el número de homicidios en 2008 y 2009 alcanzaron los 1,094, que en ese momento representaban niveles récord de violencia para la ciudad. Sin embargo, a partir de 2015, la ciudad experimentó un aumento gradual en el número de homicidios en 2015 (612 casos con 674 víctimas), 2016 (872 casos con 919 víctimas) y 2017 (1,618 casos con 1,780 víctimas) que ahora han colocado a la ciudad en la cima del incremento nacional de homicidios, en donde Tijuana representa cerca del 6% de todas las víctimas de homicidio en México.
Los autores han encontrado que la distribución de la violencia en Tijuana es desigual, y refleja divisiones geográficas, económicas y sociales. Al examinar los datos de homicidios a nivel colonia, los autores encontraron que dicha violencia está altamente concentrada en áreas específicas, principalmente en tres grupos que corresponden a zonas específicas dentro de la ciudad: Tijuana Oriental (que comprende las delegaciones de La Presa, La Presa Este y Otay). la delegación de Sánchez Taboada y la delegación Centro. También encontraron que el 20% de todos los homicidios se concentraron en solo 10 de las aproximadamente 850 colonias de Tijuana. De ellos, las tres colonias más violentas representaron el 10% de todos los homicidios en el municipio: Camino Verde (75), Zona Norte (49), Zona Centro (32).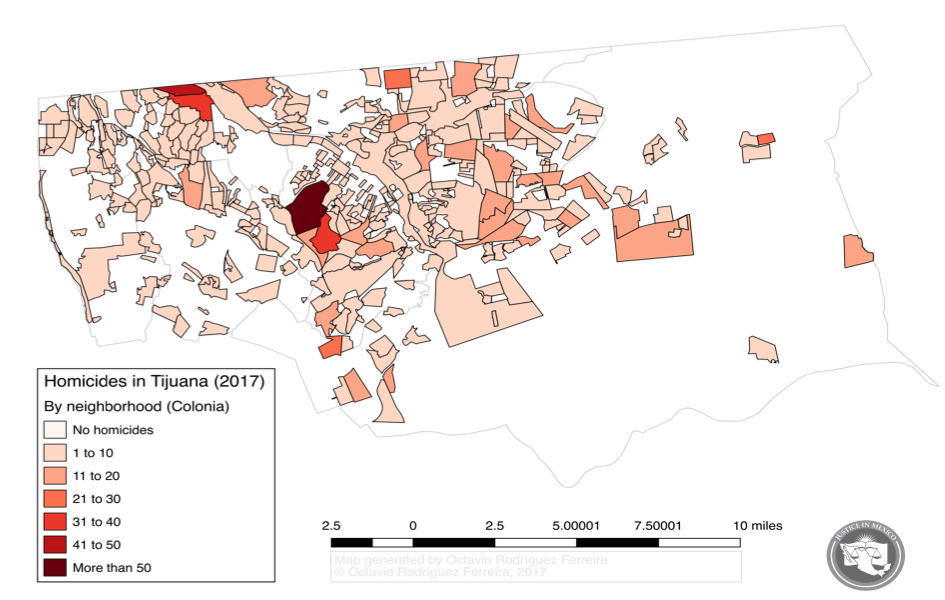 Mientras tanto, las tendencias delictivas se han mezclado para generar otras formas de crímenes violentos en Tijuana en los últimos años. Por ejemplo, los robos a mano armada en espacios públicos también han disminuido en general desde su punto más alto en 2008-10, cuando en promedio se contabilizaban más de 300 incidentes reportados por mes. De 2015 a 2017, la incidencia promedio mensual bajó a aproximadamente la mitad de esa cantidad, sin embargo, en los últimos años ha habido un fuerte aumento en el número de robos a mano armada en establecimientos comerciales de Tijuana llegando a los 300 incidentes reportados por mes, además de registrarse un aumento en el número de robos de automóviles de los 7,655 casos reportados en 2016 a 10,148 en 2017, es decir, unaumento del 32.6%.
En un esfuerzo por explicar estas tendencias, los autores ofrecen una visión general de la historia reciente del crimen organizado en Tijuana, con la consideración del papel que han desempeñado en las recientes olas de violencia. Los autores encontraron que ha habido un cambio importante en las dinámicas de la delincuencia organizada en Tijuana después de la detención y posterior extradición de Joaquín "El Chapo" Guzmán, quien una vez comandara el cártel de Sinaloa. Desde la caída del capo, una nueva organización criminal, conocida como el "Cártel de Jalisco Nueva Generación" ha afianzado su presencia en Tijuana y ha enfrentado directamente a los restos del cártel de Sinaloa. En medio del conflicto entre estas poderosas organizaciones criminales—y el vacío de liderazgo en la ciudad—ha habido una falta de control sobre pandillas, traficantes y vendedores de drogas ilícitas, y grupos dedicados a otras actividades ilícitas, todo a nivel de cada esquina, calle y colonia.
Para abordar los problemas delictivos recientes de la ciudad, los autores ofrecen una discusión de las respuestas de seguridad pública y las opciones de políticas disponibles para abordar la crisis de seguridad actual en Tijuana, con algunas recomendaciones generales de política pública para abordar los desafíos recientes de la ciudad. Los autores presentan cinco conjuntos generales de recomendaciones:
Abordar la marginación social y económica:
Invertir en programas de desarrollo social y económico
Implementar estrategias de policía comunitaria en zonas altamente violentas
Mejorar el transporte público y el acceso a las colonias
Programas de desarrollo juvenil y social
Recuperación y creación de espacios públicos
Combatir el crimen organizado:
Reducir la dependencia en la estrategia de Kingpin
Reforzar la capacidad local de las agencias de seguridad pública ante la dinámica cambiante del delito
Disuasión concentrada de la violencia
Atención a Poblaciones Especiales:
Centrarse en prevenir y detener la violencia doméstica
Aumentar la sensibilidad a la atención de víctimas especiales por parte de la policía
Ajustes estacionales en despliegue de la fuerza y en los ​​esfuerzos de atención a víctimas
Ser inteligentes en el tema de las drogas:
Programas de rehabilitación para el uso drogas
Programas de prevención de uso drogas
Colaboración binacional en nuevas regulaciones de marihuana en California
Desarrollar un enfoque de salud pública basado en la evidencia empírica
Mejorar el análisis del crimen y la violencia
Reportar las coordenadas geoespaciales precisas de los crímenes
Profesionalizar el monitoreo y análisis del delito
Fortalecer los programas de estudios criminológicos
Divulgación de pública de la información