Written by Jose Luengo-Cabrera & Tessa Butler, Institute for Economics and Peace.
The failure or inability to penalize criminals in Mexico is a widespread phenomenon. In 2016, it was estimated that only 9 out of every 100 crimes resulted in convictions. Amid growing concerns over impunity, citizens need to feel confident that their government can protect them and that they can trust the authorities in the enforcement of the law. The government's efforts, however, continue to fall short of citizens' expectations.
The percentage of citizens reporting impunity as their most worrisome issue has been on the rise in Mexico.  Despite insecurity and unemployment being worrisome for a higher percentage of citizens, the number of those concerned about impunity more than doubled between 2012 and 2016, overtaking narco-trafficking at a time when the trend for corruption has also been on the rise.
Gauging the degree of impunity in Mexico remains elusive. This is largely due to the fact that the collection of data on crimes is hampered by the high levels of underreporting – itself a consequence of distrust in the authorities' ability to respond to crimes. Underreporting has been exacerbated by a lack of transparency in the methods of statistical collection, with major discrepancies identified across the 32 states, as explored in the 'Verifying Mexico's Official Crime Data' subsection of the 2017 Mexico Peace Index. Consequently, any data-driven estimates are bound to generate inferences that provide only a partial diagnostic of the true magnitude of violence, not to mention the extent to which the authorities are responding to it.
The problem of underreporting
The most significant indication of this challenge comes from the Encuesta Nacional de Victmización y Percepción sobre Seguridad Pública (ENVIPE), Mexico's annual victimisation survey carried out by the national office of statistics (INEGI). In its 2016 iteration, it showed that 93.7 percent of crimes in 2015 were either not reported to the authorities, or went uninvestigated. Dubbed as the cifra negra (black figure), 2015 saw the second highest percentage of underreporting since 2010. When broken down by type of crime, levels of underreporting have been the highest for cases of extortion, reaching a peak of 99 percent in 2014.

The cifra negra phenomenon is a symptom of the state of Mexico's criminal justice system. Indeed, the 2016 ENVIPE results show that 63 percent of citizens did not report a crime for reasons attributable to the authorities. Thirty-three percent of citizens who did not report a crime stated that it was due to perceiving it as a waste of time, while 17 percent claimed it was the result of distrust in the authorities. Moreover, 50.4 percent of the citizens that did report a crime claimed that treatment by the authorities was 'bad' or 'very bad'.
This reality is compounded by results that shed light on the levels of citizen trust and perceptions of corruption across public security authorities. According to the 2016 ENVIPE results, an average of 45 percent of citizens reported to have 'little' or 'no trust' in the public security authorities – namely police, judges, state attorney generals and the public ministry. The average figure was 64.4 percent for those who perceived the same entities as corrupt.
The latest available data from 2014 shows that citizen trust in the enforcement of the law was pervasively low across states. The highest percentage was recorded in Chiapas, where no more than 14 percent of citizens perceived that criminals were being penalized. Nationally, close to 11 percent of the population reported the belief that criminals were never punished, with just over five percent believing it was always the case. Seventy-two percent reported it as sometimes being the case. In addition, out of the total crime investigations initiated in 2015 by the Public Ministry (Ministerio Público), 45.9 percent of them were either left unresolved or where no action was taken, with 25.9 percent remaining in process. Reparations were made in only eight percent of cases.
A nationwide phenomenon
The failure or inability to penalize perpetrators of crime in Mexico can be considered nationally ubiquitous. According to the 2016 Global Impunity Index (GII), the average score for the 32 Mexican states was 67.42 points on a scale of 0-100, where 0 represents a total absence of impunity. It placed Mexico 58th out of a total of 59 countries under study.
The impunity variance across states was small; 24 states were within ten points of the worst score of 77 recorded in Quintana Roo. This is an indication that impunity in Mexico is a nationwide phenomenon, especially when considering that three quarters of state impunity scores were within approximately six points of each other.
Mexico's poor international ranking in the GII highlights the country's structural weaknesses in addressing impunity, as explored in section four of the 2017 Mexico Peace Index. For example, the national average of magistrates and judges per every 100,000 people in Mexico was estimated at 3.5. The average for countries included in the GII was 16, or 4.5 times the level in Mexico. Moreover, there were 20 penitentiary officers for every 100 inmates in Mexico. The average across countries included in the GII was more than double that amount, 47 officers per every 100 inmates. In addition, according to the latest available data, Mexico's prisons were found to be 12 percent over capacity, with some states facing prison overpopulation rates as high as 164 percent.
A barrier to peacefulness
High levels of impunity imply that the rule of law is not being fully enforced and that state governments are failing to provide adequate funding for the provision of justice. Notwithstanding, some notable progress has been made. For example, the investigation rate for torture complaints carried out by the office of the Federal Attorney General improved by four-fold between 2013 and 2014 alone, increasing from 17 percent to 67 percent.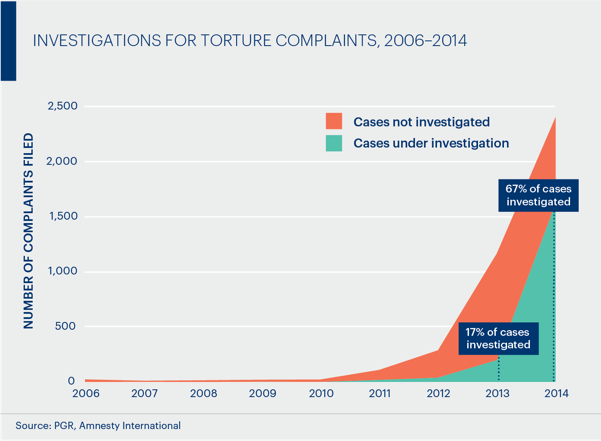 This sudden increase could be attributable to better prosecution and investigation procedures. However, it could also be the result of rising political pressure to investigate human rights violations in the wake of the 2014 enforced disappearance (Desaparición Forzada) of 43 students in Iguala – where police officers were arrested for having tortured 17 suspects.
Moreover, the high level of impunity for violence against journalists undermines efforts to disseminate information on crime and the activities that support it. This is particularly telling considering that the number of media professionals murdered was three times higher in 2016 than in 2002, despite a downward trend since a peak of 143 murders in 2012.
Mexico has made and continues to make significant strides in improving the rule of law and the quality of governance. The rule of law and the provision of justice are two critical aspects of the well-functioning government domain of Positive Peace. Where impunity remains high, it stands as a barrier to peacefulness. Better legal processes for filing citizen complaints, tracking the instances of human rights violations, and investigating cases can reduce impunity and improve peace.