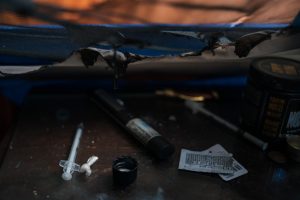 05/13/19- (written by Aitanna Ferrez) The surge of opioid overdoses in the United States has killed tens of thousands of people in recent years and, according to the New York Times, has become the leading cause of death for U.S. citizens under the age of 55.  In particular, fentanyl is a synthetic opioid that is 50 times more potent than heroin and has been a major contributor to the crisis. Fentanyl is often used by drug traffickers and dealers as an additive to enhance the effect of other drugs, including heroin, cocaine, MDMA, and even counterfeit prescription drugs. In recent years, numerous opioid deaths have been attributed to the proliferation of fentanyl, because even small variations in quantity can lead to overdoses.
Historically, fentanyl has been predominantly manufactured in China and often directly shipped to the United States. Mexican drug cartels have predominantly functioned as intermediaries in the distribution of fentanyl. Following an April 1st decision by the Chinese National Narcotics Control Commission to regulate fentanyl and all chemically similar variants as a class of controlled substances, it is possible that Mexican cartels will now become more important suppliers of illicit fentanyl. According to an InSight Crime report focused on the severity of Mexico's contribution to the deadly rise of fentanyl, Mexico has become not only a major transit country, but also a key production point for fentanyl and its chemical variants. Furthermore, Insight Crime's investigation shows that Mexican traffickers appear to be playing a role in the distribution of fentanyl within the United States, with Mexico's two largest criminal organizations—the Sinaloa Cartel and the Cartel Jalisco Nueva Generación (CJNG)—being the two most prominent purveyors of the drug. According to the report, these and other Mexican criminal organizations continue to transport and distribute fentanyl using the same routes employed for other illicit drugs.
According to the Insight Crime report, the Mexican government "does not see fentanyl as an important issue yet and has not devoted significant resources towards finding the principal drivers of the trade inside its borders." This is a serious concern given the degree to which fentanyl is dramatically reshaping the illicit drug trade. Simultaneously, this is having disastrous effects in Mexican drug producing regions, according to a report produced by the Wilson Center, NORIA, and Justice in Mexico. This report emphasizes that with "the upsurge in fentanyl use, the demand for Mexican heroin has sharply fallen," causing village economies to "dry up" and "out migration" on the upward trend. Altogether, the report highlights the how a modernization of Mexico's drug policies would solve problems to a wealth of unanswered questions and help bring marginalized regions into the country for good.
The new paradigm, created by the rise of fentanyl, may require Mexico and the United States to move away from past approaches dealing with drugs. As fentanyl begins to atomize the market, it will be more difficult to identify and arrest major traffickers like Joaquín 'El Chapo' Guzmán, a practice that has not been particularly effective in preventing drug use. According to Insight Crime founder Steven Dudley in a contribution to Foreign Affairs Magazine, "Dealing with illicit drugs requires a holistic approach dedicated to understanding the complexity of drug use and its ripple effects on everything from the rule of law to democracy."
Sources:
Dudley, Steven, et al. "Mexico's Role in the Deadly Rise of Fentanyl – Investigation." InSight Crime, Wilson Center: Mexico Institute, Feb. 2019
Dudley, Steven. "The End of the Big Cartels." Foreign Affairs, Foreign Affairs Magazine, 4 Mar. 2019, www.foreignaffairs.com/articles/mexico/2019-02-27/end-big-cartels
Hassan, Adeel. "Deaths From Drugs and Suicide Reach a Record in the U.S." The New York Times, The New York Times, 7 Mar. 2019, https://www.nytimes.com/2019/03/07/us/deaths-drugs-suicide-record.html
Le Cour Grandmaison, Romain, et al. "The U.S. Fentanyl Boom and the Mexican Opium Crisis: Finding Opportunities Amidst Violence?" Wilson Center, 12 Feb. 2019, www.wilsoncenter.org/publication/the-us-fentanyl-boom-and-the-mexican-opium-crisis-finding-opportunities-amidst-violence.