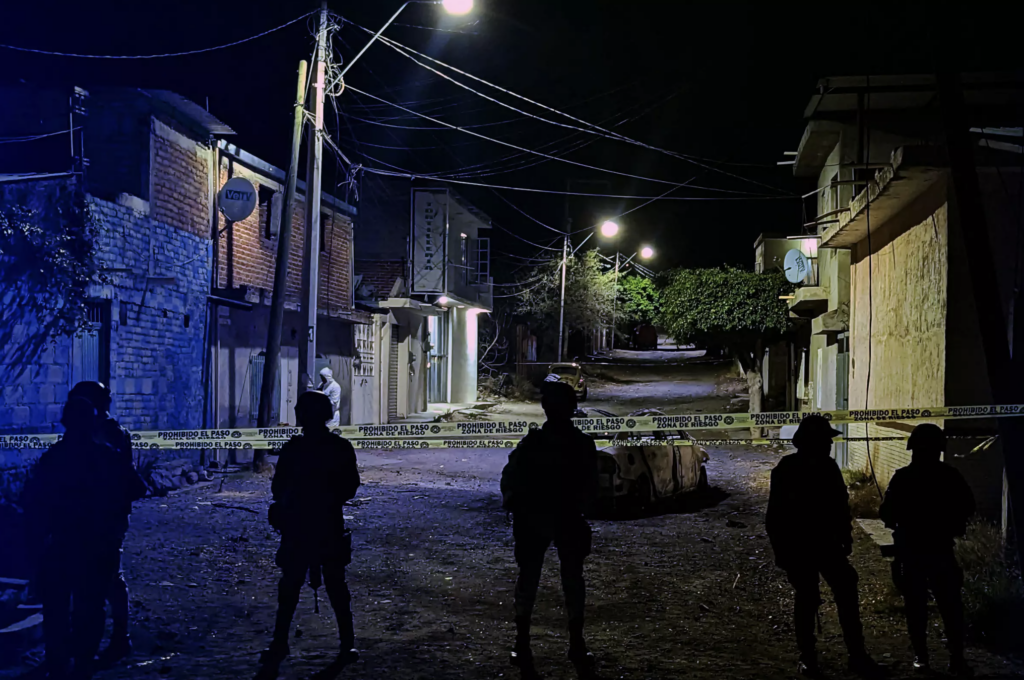 10/10/2023 (written by tfaris) – On September 21st, the online research journal Science published a study providing many insightful details on the size and recruitment of cartels in Mexico. This study is known to its authors as "…the first scholarly attempt to mathematically quantify the size of the cartel population in Mexico and to compare policy scenarios intended to decrease violence in the country." Given that violence in Mexico and throughout Latin America is on an upward trend, substantial knowledge of the size of cartels is important in order to effectively strategize to reduce cartel-related violence.
In 2022, cartel population was estimated to be between 160,000 and 185,000. Additionally, an estimated 285,000 people have acted as cartel members since 2012. Given these numbers, the authors calculate that cartels need to recruit between 350 and 370 members per week to avoid collapse. Cartels typically lose members due to incarceration or violent crime. Despite losing 200 members a day, on average, cartel membership is still growing, a consistent trend since 2012. The study estimates 120 weekly cartel-related deaths in 2022, which is a 77% increase from 2012.
The study found cartels to be the fifth largest employer in Mexico. FEMSA, Walmart, Manpower, and America Movil are the only companies with more employees than cartels; meaning cartels employ more than OXXO and Pemex. The largest drug trafficking organization, the New Generation Cartel of Jalisco (Cartel de Jalisco Nueva Generación, CJNG), is estimated to employ about 17.9% of the 160,000 – 185,000 active cartel members in Mexico. 
Estimated trends
One of the most significant findings in the study found that the current trends, with data starting in 2012, suggest that cartel violence and power will continue to increase in coming years. In 2027, according to predicted trends from the authors, Mexico could face an increase of 40% more casualties and 26% more cartel members. Two potential categories of strategies to reduce cartel violence were identified by the authors: preventive and reactive. A preventive strategy focuses on preventing recruitment. A reactive strategy, the more traditional method, is designed to increase cartel incapacitation through incarcerations. The study found that doubling incarcerations would result in reducing the aforementioned projections to an 8% increase in casualties and 6% increase in the number of cartel members in 2027. However, the authors found that reducing cartel recruitment in half leads to a decrease in homicides of 25% in the same projected time frame.
Drug-trafficking related violence in Chiapas
As a result of conflicts between drug trafficking organizations, the southern state of Chiapas has been experiencing rising violence in recent years. According to El Pais, AMLO has posited that much of the violence within the state is a result of turf battles between the Sinaloa Cartel and the CJNG, the two most powerful cartels in the country. 
As Mexico's southernmost state, Chiapas is the nexus of many valuable drug smuggling routes leaving southern Mexico to the rest of Central America. Some local Roman Catholic Dioceses have stated that cartels are practicing forced recruitment amongst local residents, and have taken control of much of the territory in Chiapas by blocking roads (El Pais). An increase in kidnapping, extortion, and homicides have also come with the turf war. The local Roman Catholic Dioceses have issued a statement to the Mexican government, claiming that some municipalities in Chiapas have been completely taken over by cartels and asking the government to step in to help the state to impose the rule of law.
Sources
Pretio-Curiel, Rafael; et. Al. "Reducing cartel recruitment is the only way to lower violence in Mexico." Science. September 21, 2023.
El Financiero. "Conflicto en Chiapas: Mujeres denuncian desplazamiento forzado y violencia de carteles." El Financiero. September 29, 2023.
El Pais. "Drug cartel turf battles cut off towns in southern Mexico state of Chiapas." El Pais. September 25, 2023.
Santos Cid, Alejandro. "Chiapas: New blood, old wars." El Pais. September 18, 2023.
Mariscal, Angeles. "Convoyes del Cartel de Sinaloa 'desfilan' frente a pobladores de Comalapa; aplauden su ingreso." El Financiero. September 25, 2023.