8/22/16 (written by msmith) —From August 1 to August 12, seven faculty members and four students from the   Universidad Nacional Autónoma de México (UNAM) Law School were selected to participate in the third of three study trips to the United States in order to learn about the U.S. criminal justice system as part of the Oral-Adversarial Skill-building Immersion Seminar (OASIS). This program was made possible by a grant from the U.S. State Department's Bureau of International Narcotics and Law Enforcement Affairs. During their visit to San Francisco, UNAM faculty and students had the opportunity to meet and learn from prominent public officials and legal experts in the San Francisco community such as California Supreme Court Associate Justice Mariano-Florentino Cuéllar, UC Berkeley Professor Saira Mohamed, UC Berkeley Professor Andrea Roth, UC Berkeley Professor Charles "Chuck" Weisselberg, UC Berkeley Law School Interim Dean Mellissa Murray, University of San Francisco (USF) School of Law Professor Connie de la Vega, USF School of Law Dean John Trasviña, prosecutor Phil Kearney, defense attorney Geoff Hansen, District Judge Edward Chen, Magistrate Judge Laurel Beeler, Chief Magistrate Judge Joseph C. Spero, Stanford University Professor of Political Science Alberto Díaz-Cayeros, Stanford Law School Former Dean and Professor Emeritus (active) Paul Brest, Stanford Law School Professor of the Practice of Law Erik Jensen, Stanford University Associate Professor of Political Science Beatriz Magaloni, Stanford Law School Leah Kaplan Visiting Professor in Human Rights Beth van Schaack, US Probation Officer James Schloetter, and Pretrial Services Deputy Chief Silvio Lugo.
With the assistance and direction of OASIS Regional Coordinator and Training Course Director Janice Deaton, each of these presenters met with the group of UNAM visitors either at USF School of Law, UC Berkeley School of Law, Stanford Law School or at the federal courthouse in downtown San  Francisco. Ms. Deaton also combined three "Train the Trainer" sessions with advanced trial techniques.  After a short lecture, each of the participants presented a section of an oral trial to the group (opening statement, direct examination by plaintiff, cross-examination by defendant's attorney, direct examination by defendant's attorney, closing arguments) while another participant practiced offering effective critiques to the presenter.  Ms. Deaton then gave critiques to both the presenter and the person giving the critique.  On the final day, Ms. Deaton gave a final lecture on different approaches to teaching trial techniques.
On August 2nd and 3rd, USF School of Law Professor Connie de la Vega spoke to the group regarding international human rights. Her first talk centered on the history of human rights law in the United States while her second talk focused on customary international law and how human rights law is interpreted by the federal constitution and state constitutions.  As Professor de la Vega mentioned, the practice of sentencing juvenile offenders to die in prison by imposing life without parole has been abolished by the vast majority of countries in the world, yet thousands of children are serving the sentences in prisons across the United States.  With at least 2,381 children sentenced to life without the possibility of parole in the United States, and seven such cases in Israel, the two countries are the only remaining nations continuing to impose the sentence, which violates international law.
On August 3rd, participants also sat in on an alleged robbery of a convenience store listened to examination and cross-examination of two DNA expert witness testimonies in District Judge Chen's courtroom. During the trial's recess, Judge Chen took time to speak with the OASIS group. Participants were able to ask questions regarding his role as a judge as well as how a judge manages prosecutor and defendant's line of questioning during an expert witness testimony.
On August 4th, participants began the day at the Federal Court observing Magistrate Judge Spero's courtroom. Judge Spero had the duty calendar, so we saw bail reviews and a short discovery matter. After his calendar, Judge Spero spoke with the group and answered questions. We proceeded to Magistrate Judge Beeler's courtroom, where we observed a guilty plea and sentencing. The case concerned a homeless man who had shoplifted food from a military store. Judge Beeler was clearly moved by the man's plight and talked with him at length about resources to help him. Judge Beeler then spoke with the group and attended the lunch hosted by the judges.
After Judge Beeler, participants went to the Probation Office and listened to Silvio Lugo from Pretrial Services and another pretrial officer discussed the principles of bail in our system, and how these principles are applied in their district. They discussed pretrial investigation, where they make bail recommendations to the magistrate judges, as well as supervision once defendants are out on bail. Jim Schloetter from the probation office and another probation officer discussed the presentence report investigation that helps judges impose sentences as well as supervision once the defendant is out on supervised release.
Participants also listened to prosecutor Phil Kearney talk about the process for federal cases, from the moment the police receive a report until trial. He used the example of an Iranian professor who was smuggling electronics from the United States to Iran through Malaysia, violating the U.S. sanctions on Iran. The case was reported by a company in California after the professor tried to buy a machine that is often used to create nuclear weapons. Mr. Kearny described the entire investigation process, including e-mail surveillance and tracking the professor's travels in and out of the U.S. until they found something reasonable enough to detain him. While many details of the case are still confidential, Mr. Kearney did share the professor and two of his accomplices are now in prison.
July 4th ended with a talk by Chief Assistant Federal Defender, Geoff Hansen. Mr. Hansen discussed a typical criminal case from start to finish, and the relationship between defense attorneys and prosecutors, as well as defense attorneys and judges. He discussed bail and the importance of getting clients out on bail.
common issues that arise for the Federal Public Defenders, such as selective prosecution, police over-reaching, and other issues they commonly litigate. Mr. Hansen praised the good relationships his office has with both prosecutors and judges in the Northern District.
On August 8, the OASIS study trip participants traveled to UC Berkeley Law School to observe a lecture on international human rights taught by Professor Saira Mohamed. This course is offered to professional track LL.M students who study at UC Berkeley Law School during the summer, which included a couple of LL.M students from Mexico and an UNAM alumna. This particular lecture focused on women's rights and the United Nations General Assembly's 1979 Convention on the Elimination of all Forms of Discrimination against Women (CEDAW). The class discussed the general points of the agreement as well as the weaknesses. One of the more striking details of CEDAW is that this agreement is not limited to government action, but includes private discrimination as well. Also, it can include actions that did not have the original intent to cause discrimination but do so by effect. Among the weaknesses discussed with the creation and implementation of CEDAW is the suggestion that women's rights are a separate category from human rights and the lack of domestic implementation and enforcement.  Professor Mohamed included several real-world examples of CEDAW, including the introduction of gender-segregated busses for women in Mexico City in 2008. The class and OASIS group discussed this policy as a positive action to deter harassment and negative attention. This policy is a proper example of CEDAW's goal in preserving the woman's choice—in this case to ride the gender segregated bus or the gender inclusive bus. The class discussion on this example also included the intersection of femicide and violence against women as a trend in Mexico, its perception as a "temporary special measure" as allowed by CEDAW, and the possibility of a more permanent solution such as education reform. Professor Mohamed wrapped up the lecture by summarizing the history of an established due diligence for governments in cases involving violence against women, citing cases such as Velásquez Rodríguez v. Honduras. Prof. Mohamed emphasized that this precedent greatly increased the responsibility placed on governments when dealing with human rights violations.
Following Professor Mohamed's lecture, Professor Chuck Weisselberg organized a panel with Dr. David Shirk and Octavio Rodriguez. Dr. Shirk provided an overview of Justice in Mexico including its history, objectives, deliverables, and various databases. From there, he discussed the forces and events that led to Mexico's adoption of extensive judicial reform in 2008. One of the striking statistics he mentioned came from Justice in Mexico's Justiciabarómetro surveys of criminal justice system operators: in 2010 about half of the judges surveyed believed the traditional justice system was working adequately while by 2016 about 68% of judges surveyed reported that the system did need reform. According to Dr. Shirk, these surveys reflect how Mexico's judicial reform is indeed changing the perspective of its actors—which is undoubtedly crucial to its ultimate success.  Octavio Rodríguez continued the conversation by delving deeper into Mexico's history and legislation that led to the current state of judicial reform. He described Mexico's implementation process including the various agencies, committees, and resources that were created for the purpose of a successful implementation. Mr. Rodríguez continued with a chronological perspective of the implementation process where he also noted the disparity in implementation across states and regions.  Professor Weisselberg then opened up the discussion to the audience, which included our OASIS participants, Berkeley law students, and Berkeley law professors. One of the main points of discussion was the need of measurable factors in the criminal justice system as a means of analyzing the process before and after the reform. It was discussed that this should include the procedure of criminal law as well as the substance of the reformed system. UNAM participants contributed by giving personal experiences of the criminal justice system as well as their own recommendations including training and professionalization of police as well as cultural change.
On August 9, the OASIS participants traveled to Palo Alto to visit Stanford Law School. The OASIS program at Stanford was organized and directed by Dr. Alberto Diaz-Cayeros and Dr. Beatriz Magaloni.  Dr. Magaloni began the day of activities with a presentation of the extensive research her and Dr. Diaz-Cayeros have conducted on violent crimes in Latin America. Their research seeks to identify demographic trends and possible causes of murder in areas where civilian populations are most affected. She explained the depth of Latin America's violence by emphasizing that although Latin America represents only 8% of the world's population, it constitutes 30% of the world's homicides. After looking at specific issues such as Mexico's forced disappearances, Magaloni explored the question of whether the world cares about violence in Latin America and Mexico. The discussion also focused on the lack of reporting by media outlets and empathy among politicians and civilians because of the criminal nature many of the victims of these homicides represent. The take-away recommendations on behalf of Dr. Magaloni and the discussion among the group centered on Mexico's need for education to protect at-risk youth. Also, research such as Dr. Magaloni's remains a powerful tool to keep the information current and inspire governments to implement policy.
The international scope broadened from Dr. Magaloni's presentation with an informative lecture on international crimes against humanity by Stanford Global Studies Senior Fellow Beth van Schaak. Van Schaak's lecture explained the role of courts in human rights crimes at both the domestic and international level. She gave a broad overview on the mechanisms for courts at the international level, noting that they are usually ad hoc tribunals such as the ICTY and IC Rwanda. Van Schaak's discussion also focused on the differences between the different United States courts for crimes against humanity including criminal, civil, and immigration courts. She noted that these three routes often interact with one another, but spoke to the intricacies of each route on its own. One of the major takeaways was within civil courts, where she noted that the United States is unique from the rest of the Western hemisphere because of the strong separation between civil and criminal law systems as a common law system. There are various important statutes in the U.S. that allow for victims to pursue damages including the Alien Torts Statute, Torture Victim Protection Act, and Foreign Sovereign Immunity Act. Van Schaak emphasized that with immigration courts they are often used as an alternative for cases of international crimes against humanity where the criminal could otherwise not be charged within a criminal court. The discussion was then opened to the group where the focus was able to shift to Mexico in particular. OASIS participants asked why the U.S. Department of Justice chooses to focus on prosecuting Mexican drug traffickers for their drug trafficking activities in spite of the fact that they commit many crimes against humanity (e.g. torture, child soldiers, etc.). Van Schaak explained that there is weak communication across Department of Justice divisions at times and that prosecutors will charge drug trafficking crimes because they are often the most straight-forward. The session wrapped up with a comparison between the United States' and Mexico's approach to human rights crimes.
The afternoon sessions included a presentation on police reform in Brazil by Stanford doctoral candidate Edgar Franco. Franco explored the causes of violence epidemics and the history of police violence in particular. He broke down the organization of police in Brazil and how policing of the favelas in Rio de Janeiro operates. He also analyzed the implementation and results of the Unidade de Polícia Pacificadora (Pacifying Police Unit) in Rio de Janeiro. The following session was facilitated by Dr. Diaz-Cayeros who focused on corruption and extortion in Mexico. He discussed the methodology, including item response questions, and the challenges faced when crime reporting is so low in countries like Mexico. The overall focus of his research is to identify countries with rule of law issues and find solutions to improving the rule of law.
The day at Stanford ended with a discussion facilitated by Stanford Law professors Paul Brest and Erik Jensen. They are currently working with their Stanford colleagues on a project by the name of "The Rule of Non-Law." The rule of non-law concept, which seeks to examine developing nations where informal customs and institutions can act as a barrier to the formal legal institutions in place. Various examples were contemplated including India and Mexico.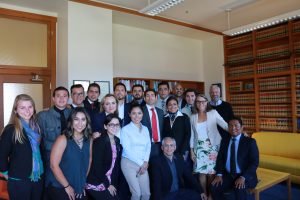 On Wednesday, August 10, the group headed to Fisherman's Wharf to take a ferry across the bay in order to visit the island that housed the former Alcatraz federal prison. The group toured the main prison facility, learning about the institution's history in the context of the U.S. criminal justice system. Shortly after, the group headed back to San Francisco in order to meet with California Supreme Court Justice Mariano-Florentino Cuéllar, who invited OASIS participants and staff to join him in his chambers for a discussion about his work. Justice Cuéllar holds degrees from Harvard, Yale, and Stanford. He was also born in Matamoros, Tamaulipas and spoke to the group about his upbringing in Brownsville, Texas and how he came to serve on the Supreme Court of California. Justice Cuéllar also discussed how the court decides which cases to accept and how those cases are ultimately decided amongst the Court's seven justices.
The following day, on August 11, the group headed to UC Berkeley in order to attend the last day of study trip sessions with UC Berkeley's Law School professors. In the morning, Professor Andrea Roth spoke to the group about forensic evidence and its role in U.S. criminal law proceedings. She first discussed the admissibility of forensic evidence—or rather, how judges ultimately decide which evidence to admit. She continued with an explanation of parties' rights with respect to pretrial discovery and how they may challenge forensic evidence once it is admitted by a judge. She also spoke to the group about reforms with respect to forensic evidence and "factfinder competence", or the ability of judges to accurately evaluate the validity of forensic evidence.
In the afternoon, UC Berkeley's Charles ("Chuck") Weisselberg presented on the topic of rules governing police interrogations and the legacy of Miranda v. Arizona (1966). Specifically, he explained the structure of the interrogation process, citing the interview stage and the subsequent interrogation stage. He then reviewed the emergence of Miranda warnings after the landmark case and how law enforcement's administration of these warnings may affect the "voluntariness" of the accused's statements during interrogation. Professor Weisselberg concluded with a discussion of how similar warnings are to be implemented in international jurisdictions, such as the European Union.
Following this final presentation, Professor Weisselberg and the staff of UC Berkeley Law School hosted a closing ceremony and reception for the participants of the third OASIS study trip. In attendance were OASIS Director Dr. David Shirk, Program Coordinator Octavio Rodríguez, and Interim Dean of the UC Berkeley Law School Melissa Murray. Each addressed the group of participants, thanking them for their successful participation in the program and their commitment to Mexico's judicial reform. Following these comments, participants were congratulated individually with a certificate of completion of the two-week program by OASIS and UC Berkeley representatives.