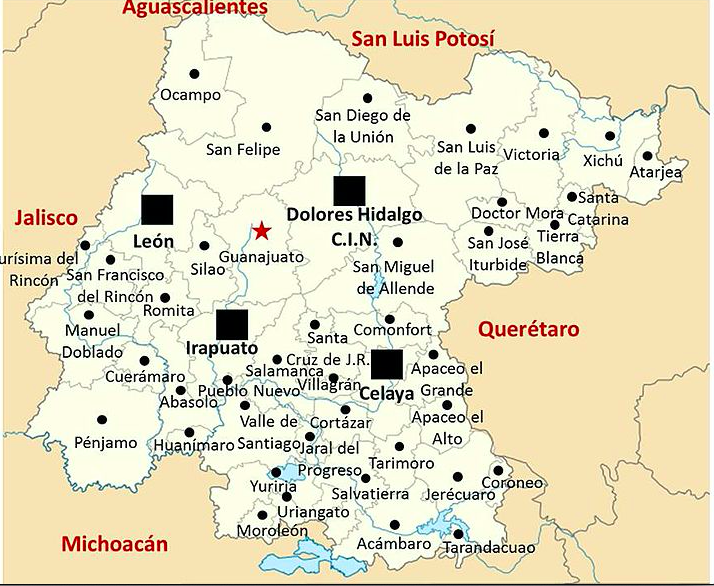 06/30/20 (written by kheinle) – Tension and violence is growing in Guanajuato, already the country's most violent state, after police arrested several family members of José Antonio Yepez, "El Marro." The mother, sister, and cousin of El Marro, the leader of the Santa Rosa de Lima Cartel (Cartel de Santa Rosa de Lima, CSRL) and one of Mexico's most wanted drug kingpins, were picked up on June 20 in Celaya, Guanajuato. Two other women of no familial relation were also detained. Authorities also seized a kilogram of methamphetamine and $2 million pesos ($88,000 USD) during the operation. The women were arrested for allegedly playing key roles in the Santa Rosa de Lima Cartel's financial operations.
This came as part of a joint operation between the Secretary of National Defense (Secretaría de la Defensa Nacional, SEDENA), the National Guard (Guardia Nacional), and the Guanajuato Attorney General's Office (Fiscalía General de Guanajuato). Twenty-six other CSRL members were also arrested during the operation at different locations in surrounding municipalities, but they have since been released for lack of evidence, among other technicalities.
El Marro Reacts
Following the arrests, El Marro released two short videos that quickly went viral during which he threatened to "unleash violence" in Guanajuato if his loved ones were not promptly released. "I'm going to be a stone in your shoe," he said, directing his ire towards the Mexican government. "I'm going to blow up, you will see… In my mother's and my people's name… I don't fear you." He also claimed that authorities are working with the Jalisco New Generation Cartel (Cártel de Jalisco Nueva Generación, CJNG), a bitter rival of the Santa Rosa de Lima Cartel. He then spoke of potentially establishing an alliance with other cartels to rise up in response to the authorities' arrests, and thanked his supporters who had already taken up arms.
In the week since the June 20 operation, more than 100 people were killed in Guanajuato. Vehicles and businesses were set ablaze, narco-roadblocks established, four youth disappeared, and a bomb threat called in at a refinery in the municipality of Salamanca. In a unique turn of events, El Marro's father, Rodolfo Yépez, was also released from prison on June 26 after having posted a $10,000 peso-bond. The judge who ordered his release and subsequent house arrest also noted the father's senior age as a concern given the coronavirus pandemic. R. Yépez was serving time since March 2020 for robbery.
Violence in Guanajuato
Guanajuato is the most violent state in Mexico. From January to late June 2020, more than 1,725 homicides were registered, according to data from the Secretary General of National Public Security (Secretariado Ejecutivo del Sistema Nacional de Seguridad Pública, SESNSP). As El Universal writes, SESNSP data shows that "from January 1 to June 24 of 2020, about 9.9 homicides occur each day, or a murder every 2.4 hours, an unprecedented statistic for [Guanajuato]." In 2019, Guanajuato registered the highest number of organized crime related homicides with 2,673 cases, according to Reforma.
The violence is largely attributed to the battles between the Santa Rosa de Lima Cartel and the Jalisco New Generation Cartel (CJNG), led by Nemesio Oseguera Cervantes, "El Mencho." The two have been in conflict since October 2017 when El Marro "declared war" on the CJNG over the control of fuel theft (huachicol) in Guanajuato, particularly in the municipalities of León, Irapuato, Salamanca, Celaya, and Los Apaseos, also known as the "Triángulo de las Bermúdas." The control for the territory also lends itself to the cartels' further control and involvement in drug tracking, kidnapping, and extortion. As Mexico's most violent state, and with the battle between these two powerful cartels, there is also a large presence of high-power firearms in Guanajuato. El Universalreports that the "use of firearms is at a level not seen in any other state in the country."
Government Response
Mexico's Secretary of Security and Civilian Protection (Secretario de Seguridad y Protección Ciudana, SSPC), Alfonso Durazo, announced the government's new strategy to address the rising levels of violence in Guanajuato. On June 26, Durazo said that more federal troops would be sent to the state, a decision that was in the process of being made before El Marro took to social media to call for violent uprisings in response to his loved ones' arrests. The Secretary said more information about how the federal and state security forces would work together would be detailed in the coming week.
Sources:
Lastiri, Diana. "Sedena reporta detención de madre y hermana de 'El Marro.'" El Universal. June 21, 2020.
Lastiri, Diana. "El Marro' vows to wreak havoc in Guanajuato after his family members were arrested." El Universal. June 6, 2020.
Martínez, César. "Amarga 'El Marro' con más violencia en Guanajuato." Reforma. June 21, 2020.
Oré, Diego. "Tearful Mexican cartel chief threatens government after mother's detention." Reuters. June 21, 2020.
López Ponce, Jannet and Mariana Ramos. "Liberan a papa de 'El Marro' en Guanajuato, tras pagar 10 mil pesos de fianza." Milenio. June 26, 2020.
Monroy, Jorge. "Ante amenazas de 'El Marro", gobierno replantea estrategia en Guanajuato." El Economista. June 26, 2020.
Arrieta, Carlos. "Choques entre CJNG y Santa Rosa dejan mil 179 asesinatos." El Universal. June 27, 2020.