04/06/21 (written by scortez) – In late March, four women were brutally killed across the state of Quintana Roo. The femicides span the last weekend of March 2021 and occurred in Tulum, Holbox, and Cancún. The murders have sparked outrage across the country and demonstrations have taken place in cities across the state.
The most high-profile of the femicides occurred on March 27 in Tulum when a Salvadoran woman, Victoria Esperanza Salazar, was allegedly killed by police while she was detained. Animal Político reports that she was held by police for disturbing the public. On social media, videos surfaced from bystanders present during the incident showing four police officers kneeling down on the back of Salazar's neck until she became unresponsive. Since then, four police officers have been arrested on femicide charges for the murder of Salazar. In addition to their arrest, the Tulum Police Director, Nesguer Vicencio Méndez, was removed from his position. Their role in the killing of Salazar has also brought condemnation from President Andrés Manuel López Obrador, known as AMLO, who said that her death brought on "shame, pain, and embarrassment." He vowed to bring justice to those responsible for Salazar's death. .
The day after Salazar's death, the body of Karla was found on March 28, on the shores of the island of Holbox. Her body was found with signs of strangulation and with deep knife cuts. On that same day, the State Attorney's Office (Fiscalía General de Quintana Roo) announced that a suspect only publicly identified as Roger C. had been arrested for his alleged role in her murder. Authorities believe that the homicide stemmed from a personal dispute between the suspect and the victim. Her murder may also be connected to the disappearances of two other women that went missing before Karla was found dead.
Finally, two more women were killed in Cancún on March 28. The victims have yet to be identified by authorities. According to Expansión Política, the two women were killed in separate events. The first victim was shot three times in her apartment; the other was burned alive.These deaths rocked the community in Quintana Roo and have resurfaced communal outrage towards the violence that targets women.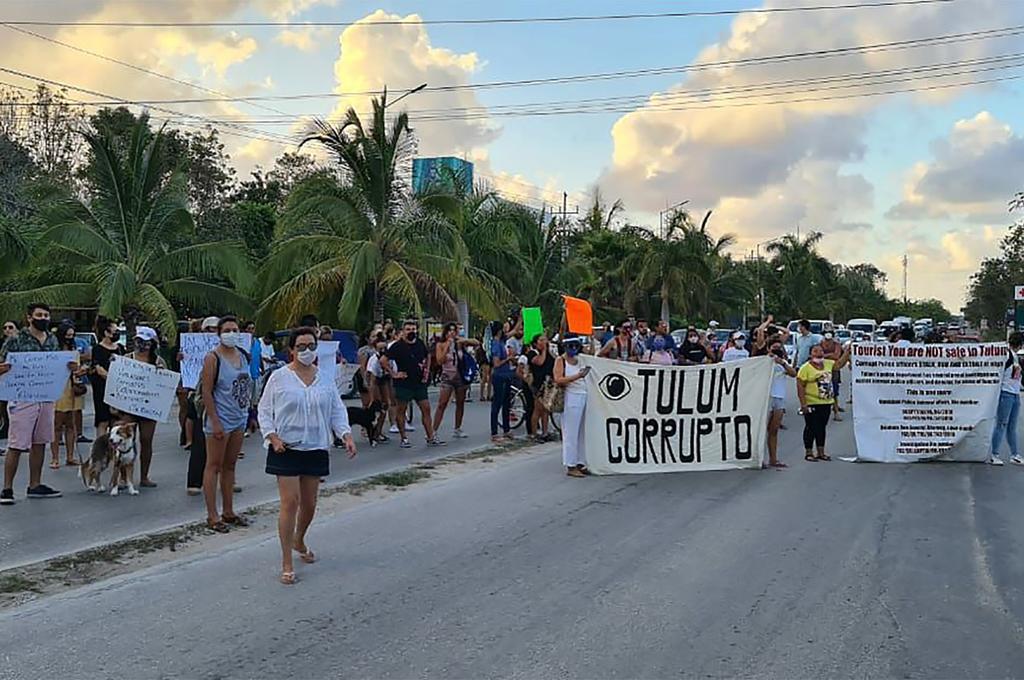 Demonstrators Protest the Deadly Weekend
For the past few years, demonstrators have continued to push the federal government to act swiftly to end the epidemic of femicides occurring across the country. Renewed protests kicked off following the reports of the first two femicides of Salazar and Karla in Tulum and Holbox, respectively. On March 28, feminist organizations demanding justice began protesting in Cancún, Tulum, and Mexico City. The protestors are demanding reforms to the police system that call for the excessive use of force and the maneuver used to kill Salazar. The demonstrations are reminiscent of the November 2020 Cancún protests that resulted in a violent dispersal by police. During that protest, there were reports that police used excessive force and sexually assaulted protestors. The recent femicides that occurred in the state is part of a larger uptick of gendered violence occurring across the country.
Femicide: A National Crisis
Despite the apprehension of those involved in these recent killings, the threat to women's safety remains an ongoing issue. Approximately 10 women are killed each day due to gender-related violence in Mexico. According to a Justice In Mexico report in 2019, 945 femicides occurred across the country. In that same report, the SNSP highlighted that from 2015 to 2019, the number of femicides increased by 130%. The growing statistics matched with the rise in demonstrations over the past years make this one of Mexico's most pressing issues that remain unsolved. Human Rights Watch writes that femicides occur because of long-existing social problems such as the tendency to romanticize partner violence and a lack of police investigations. On International Women's Day, March 2020, protesters demanding justice and accountability for the high femicide rates caught the world's attention with the massive demonstrations urging the government to act. It is uncertain if the AMLO administration will take on these recent calls for strengthening the protection of women and implement changes that target this issue.
Sources
Vivicano, José. "Mexican government paralyzed in the face of a wave of femicides." Human Rights Watch. March 3, 2020.
"Police kill a woman detained in Tulum, Quintana Roo; separate and investigate elements." Animal Político. March 28, 2021.
"Un feminicidio conmociona Holbox, la joya caribeña mexicana." El País. March 28, 2021.
Averbuch, Maya. "AMLO, Bukele Condemn Police Murder of Salvadoran Woman in Tulum." Bloomberg. March 29, 2021.
Galván, Melissa. "Quintana Roo, el "paraíso" que está de luto por cuatro feminicidios." Expansión Política. March 29, 2021.
"Karla trabajaba como taxista en Holbox, hasta que fue asesinada; esto sabemos del caso." Milenio. March 29, 2021.
"Mexico: Tulum police accused of 'murder' over death of woman knelt on by officers." The Guardian. March 29, 2021.