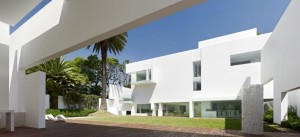 11/12/14 (written by cmolzahn) — On November 9, the online news outlet Aristegui Noticias reported that the home into which President Enrique Peña Nieto and his family plan to move after his term ends in December 2018 is registered to a corporation that was part of a consortium led by China Railway Construction Corporation that recently won a bid to build a high-speed railway from Mexico City to Querétaro. The company, Constructora Teya, is a subsidiary of Toluca-based Grupo Higa, with which Peña Nieto has maintained close ties since he served as governor of the State of Mexico (Estado de México, Edomex). The high-speed rail contract, valued at more than $50 billion pesos (nearly $3.6 billion USD) has since been revoked, due to concerns over the short bidding process and a lack of transparency expressed by competitors and members of opposition parties. The months-long investigation by Aristegui received support from Latin American journalism platform Connectas and the International Center for Journalists.
The house in question, located in the upscale Lomas de Chapultepec neighborhood in Mexico City, is valued at around $7 million (USD). It is registered under the engineering firm Ingeniería Inmobiliaria del Centro, another subsidiary of Grupo Higa, although the investigative team found that it is just meters away from the residence in Lomas where Peña Nieto and his family lived prior to his assuming the presidency. Peña Nieto has never included the house in his annual assets declaration. The investigation stemmed from an interview with Peña Nieto's wife, Angélica Rivera, in ¡Hola! magazine, which includes photos of Rivera in various locations around the luxury home. The architect of the house, Miguel Ángel Aragonés, has confirmed that he consulted with Peña Nieto and Rivera in renovating the home, named "Casa La Palma," to the couple's specifications. According to the report, Ingeniería Inmobiliaria del Centro was founded on November 13, 2008, a day after it became publicly known that Peña Nieto and Rivera were engaged. Moreover, the owners of Ingeniería Inmobiliaria del Centro at the time were Juan Armando Hinojosa Cantú and his son, Juan Armando Hinojosa García, the latter of whom died in a helicopter crash in July 2012 in one of the same helicopters supplied by Grupo Higa to the Peña Nieto presidential campaign. Peña Nieto was said to have a friendship with Hinojosa García, who before his death was married for three years to the daughter of former Veracruz Governor Fidel Herrera, of Peña Nieto's Institutional Revolutionary Party (Partido Revolucionario Institucional, PRI).
Grupo Higa subsidiaries have been awarded a number of lucrative contracts under Peña Nieto-led governments. In 2009, the companies IGSA Solutions and Constructora Teya won the bid for the construction and operation of the Regional Specialty Hospital of Zumpango (Hospital Regional de Especialidades de Zumpango) that is worth over $7 billion pesos (over $515 million USD), according to Transparencia Mexicana. The construction of that hospital had been one of Peña Nieto's campaign promises as a gubernatorial candidate for the State of Mexico. Six months later, Grupo Higa purchased the land in Lomas de Chapultepec where the house in question would be built for $8.5 million pesos ($625,000 USD) through its legal representative, Arturo Reyes Gómez. Constructora Teya also won contracts for the construction of the Toluca-Naucalpan and Toluca-Atlacomulco highways and the Naucalpan-Metepec highway interchange, in addition to projects at the Toluca airport in the State of Mexico, and the Paseo Tollocan, Toluca's principal thoroughfare. Two other Grupo Higa subsidiaries—Mezcla Asfáltica de Alta Calidad and Concretos y Obras del Pacífico SA—won contracts from the State of Mexico's roads council (Junta de Caminos) and Water and Public Works Ministry (Secretaría del Agua y Obra Pública del Estado), respectively, during Peña Nieto's tenure.
Following the publication of the report in Aristegui Noticias, Peña Nieto's press secretary, Eduardo Sánchez, clarified that Angélica Rivera, not the president, has been in the process of purchasing the Las Lomas house from Ingeniería Inmobiliaria since January 2012 in order to build on her existing property. The house they occupied prior to Peña Nieto assuming the presidency, which neighbors the house in question, also belongs to Rivera, he added. Sánchez said that the president and his wife maintain separate assets, and that Rivera, due to a successful singing and acting career prior to marrying Peña Nieto, has the necessary finances to acquire the property.
In response to the statements from Sánchez, Aristegui Noticias emphasized that the Peña Nieto administration did not deny the essential points of the November 9th report—namely, that the residence being acquired by the presidential family belongs to a company that has benefitted from contracts awarded under Peña Nieto-led governments, that it is valued at $7 million (USD), and that the architect Aragonés consulted with Peña Nieto and Rivera in redesigning the home. Aristegui Noticias adds that the home currently owned by Rivera on Paseo de las Palmas was transferred to her possession by Televisa Talento SA de CV on December 14, 2010, 16 days after she and Peña Nieto were married, the same day that Ingeniería Inmobiliaria del Centro purchased the house directly behind it, currently the property under debate.
Sources: 
González Amador, Roberto. "Residencia de EPN, propiedad de beneficiario del contrato de tren." La Jornada. November 9, 2014.
Redacción. "La casa blanca de Enrique Peña Nieto (investigación especial)." Aristegui Noticias. November 9, 2014.
Redacción. "La esposa de EPN compra la casa de Lomas, precisa el vocero oficial." La Jornada. November 9, 2014.
Redacción. "La casa de Palmas fue 'transferida' por Televisa a Angélica Rivera." Aristegui Noticias. November 10, 2014.