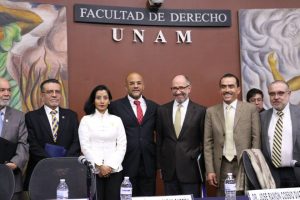 09/20/16 (written by kheinle) – On September 8-9, Justice in Mexico's Oral Adversarial Skill-building Immersion Seminar (OASIS) co-hosted the International Symposium on Oral Adversarial Justice Systems with the National Autonomous University of Mexico School of Law (Universidad Nacional Autónoma de México, UNAM) in Mexico City. Over 500 students, faculty, and community members and officials attended to learn about the successes, challenges, and next steps for Mexico's comprehensive justice reform.
The symposium concluded OASIS's second yearlong training and education program. Throughout the 2015-2016 academic year, OASIS sponsored three 40-hour courses in oral adversarial litigation skills at the UNAM School of Law as well as visits to various cities in the United States, including Boston, San Diego, and San Francisco, where UNAM School of Law professors and students observed how the U.S. justice system operates. Hosted at the UNAM School of Law, the symposium convened a diverse group of judicial system operators, a Supreme Court judge, prosecutors, government officials, academics, and civil society representatives. It came just a few months after the June 18, 2016 constitutional deadline for full judicial system implementation, closing an eight-year period during which Mexico's 32 states were obligated to implement and begin operating the New Criminal Justice System (Nuevo Sistema de Justicia Penal, NSJP).
The symposium began with introductory comments from Dr. David Shirk, director of Justice in Mexico; Dr. Stephen Ferruolo, dean of the University of San Diego's (USD) School of Law; Dr. Alfonso del Valle, coordinator for the Bureau of International Narcotics and Law Enforcement Affairs (INL) Rule of Law program; Dr. María de los Ángeles Fromow, Director of the Council for the Implementation of the Criminal Justice System's Technical Secretariat (Secretaría Técnica del Consejo de Coordinación para la Implementación del Sistema de Justicia, SETEC), and Dr. Raúl Contreras Bustamante, dean of UNAM's School of Law. Among other welcoming remarks, the speakers emphasized the important role that institutions like USD and UNAM have had in contributing to NSJP reform's successes and remaining challenges moving forward.
The symposium's first panel, "Human Rights and Civil Rights in Mexico and the United States," was moderated by OASIS Training Course Director Janice Deaton. Dr. Luis de la Barreda Solózano of UNAM opened with a discussion on human rights in the Mexican legal system, detailing several major moments in Mexico: the 1990 creation of Mexico's National Human Rights Commission (Comisión Nacional de los Derechos Humanos, CNDH); the 2011 constitutional reform that prioritizes the protection of human rights when the situation weighs constitutional versus international treaties; the importance of the Supreme Court's (Suprema Corte Nacional de Justicia, SCNJ) ruling that adheres Mexico to Inter-American Commission on Human Rights (IACHR) resolutions; and a critique of the country's use of arraigo. Former CNDH president, Dr. Mireille Roccatti, furthered the conversation on the CNDH and the 2011 constitutional reform in her broader discussion on mechanisms through which to defend human rights in the legal framework. She also discussed the role of amparo in the legal system—an injunction that protects individual's rights from inappropriate acts or failure to act by authorities.
Assistant Attorney General Anthony Da Silva of the California Department of Justice then spoke on the successful integration of human rights protections into the U.S. legal system, specifically looking at international versus national law surrounding human rights, and the constitutional rights of the defendant. He outlined an array of legal rights that individuals have as part of their right to due process, including the right to a public trial, attorney, impartial jury, and presumption of innocence. USD professor Andrew Tirrell concluded the panel looking instead at the lack of human rights integration in the U.S. justice system and the continued challenges that persist. He focused on racial discrimination, capital punishment, and the role of mental capacity or incapacity among defendants in their proceedings, tying together how all three undermine the protection of human rights in the United States.
UNAM law professor and attorney Guillermo Alcantár moderated the second panel of the day, "Civic Initiatives for the New Criminal Justice System in Mexico." Panelist Susana Catalina Peña Parás, administrative coordinator for the Center for Studies on the Teachings and Learning of Law, A.C. (Centro de Estudios sobre la Enseñanza y el Aprendizaje del Derecho, A.C., CEEAD), highlighted the important role universities have played and will continue to play in the judicial system reform. She spoke on the six ways that her organization, CEEAD, supports universities in this process, including advising universities on curriculum updates, creating educational material, training professors, developing a diagnostic test or evaluation to measure students' understanding of the adversarial system, monitoring implementation, and exchanging best practices. Dr. David Fernández Mena, director for the American Bar Association-Rule of Law Initiative's (ABA-ROLI) Mexico Program, followed with his presentation on his institution's role at universities and within civil society organizations. He argued that universities have a profound role in the reform, both in ensuring that students are ready and trained to operate within the system and that professors are equipped to sufficiently teach their students on the new system. The panel concluded with Layda Negrete of México Evalúa, who spoke on civic initiatives related to the criminal system through a statistical lens. Negrete discussed how México Evalúa measures the results of the new system's implementation taking into account seven indicators: public confidence, homicide levels, reporting of crimes, quality of treatment for victims, presumption of innocence, fair criminal procedures, and quality of prison conditions.
The symposium's second day began with a panel discussion, moderated by UNAM law professor Trilce Ovilla Bueno, dedicated to critical perspectives of the new accusatorial system. USD School of Law Dean Stephen Ferruolo shared critiques of the United States accusatorial system and how the U.S. is addressing these issues, thus providing a comparative study. He cautioned that many in the United States do not fully understand the judiciary's role in the democratic system, and how that undermines a successful rule of law. He also called attention to the role of universities in training lawyers first and foremost to respect the law and justice in their work. UNAM law professor Dr. Raúl Carranca y Rivas followed with his presentation on the important role that language plays in the legal process. Dr. Carranca y Rivas advocated that law students must know, master, and respect legal speech, particularly in the NSJP that is built on oral trials. "Speaking well is an art," he said. UNAM law professor Dr. Víctor Manuel Garay Garzón followed with a discussion on challenges faced in the NSJP.  Specifically, he discussed the lack of formal or adequate marketing and promotion of the system prior to its implementation. For example, Dr. Garay Garzón spoke on the importance of preparing a civil society for a drastic change, like that of a new judicial system, before training of legal actors and operators began.
Judge Belem Bolanos Martínez continued the panel with her presentation on Mexico's National Code of Penal Procedures (Código Nacional de Procedimiento Penal, CNPP) and the challenges that existed under the old criminal justice system versus those under the new. She summarized that greater communication among judicial system operators and continued training in general is needed to operate within the new system, as decisions made in the courtroom may be immediate, thus requiring the judge to have a deeper understanding of the case and evidence presented. Rommel Moreno Manjarréz of the Attorney General's Office (Procuraduría General de la República, PGR) concluded the panel with a look at the importance of creating a civil society that supports the NSJP. He noted the critical role academia plays in the system's reform, as well as the necessity of growing a civil society that respects the new system while also continuing to question and critique.
Dr. Viridiana Ríos, a research fellow at the Woodrow Wilson Center's Mexico Institute, moderated the day's second panel, "The NSJP in Action." Justice in Mexico Director Dr. David Shirk led off with an overview of Justice in Mexico's work and its upcoming publication to be released in fall 2016 as part of its Justiciabarómetro initiative. The report will feature first-of-its-kind data, which Dr. Shirk shared, on judges', prosecutors', and defense attorneys' perceptions of the new judicial system compared to their opinions from 2010. Professor Karol Derwich of Jagiellonian University's Center of Latin American Studies then presented on the juxtaposition between Mexico being arguably a dysfunctional state while simultaneously introducing the new accusatorial model of justice, a significant step forward in its continued efforts to consolidate democratic efforts. Although only seven of 100 crimes are reported in Mexico, Derwich noted, the NSJP can support Mexico in advancing beyond a dysfunctional status.
The panel moved into a presentation by María Novoa of the Center for Investigation and Development, A.C. (Centro de Investigación para el Desarrollo, A.C., CIDAC), who spoke on the necessity of unifying the new criminal code (CNPP) to enhance the system's acceptance, implementation, and evaluation. Novoa pointed to systemic and institutional challenges in Mexico that threaten the new adversarial system's success, including the lack of uniformity within the system; subpar institutional coordination; the need for quality scientific research and investigation protocols at crime scenes; and the underuse of alternative methods for conflict resolution, among others. Professor Zulia Orozco of the Autonomous University of Baja California (Universidad Autónoma de Baja California, UABC) concluded the panel with her analysis of the crucial role police play in the NSJP. She called attention to areas in which state and local police departments are lacking, such as institutionalizing training on matters of age, disability, and gender, and how the NSJP seeks to strengthen police departments and the institution as a whole.
Keynote speaker, Mexican Supreme Court Justice José Ramón Cossío Díaz, concluded the symposium with a diagnosis of the NSJP. The reality, he argued, is that there were many years during the implementation stage that could have been more properly used for preparing the country for the radical judicial system changes. Justice Cossío spoke specifically to four challenges he sees within the new system: inadequate training of judicial system operators and law students; poor information sharing between judicial system actors, academia, government, and civil society; the undermining of human rights at the federal level (e.g., Ayotzinapa); and the inharmonious use of amparo and oral trials. Justice Cossío concluded, "We are poorly prepared for oral trials… We need to identify the challenges and weak spots [of the NSJP], dialogue and create solutions, and modify the reform to make it better."
The second OASIS symposium was a great success, drawing together a variety of diverse stakeholders and key government officials, members of academia, and civil society representatives. It was a productive event capping off another successful year for OASIS. Justice in Mexico would like to thank the symposium's panelists and moderators, and UNAM's School of Law faculty for their dedicated collaboration and commitment to justice reform in Mexico.