05/07/16 (written by kheinle) – Journalists continue to face grave danger in Mexico, as evidenced by the recent homicide of journalist Francisco Pacheco Beltrán (55) in Guerrero. HIs death marks at least the fourth journalist killed in Mexico in 2016, putting the country on pace to more than double the number of journalists killed in 2015, according to data from the Committee to Protect Journalists (CPJ). Pacheco was murdered by assailants in the early morning outside his home in Taxco, Guerrero on Monday, April 25 with two shots to the back of the head.
Violence Against Journalists
Pacheco played a number of roles in media, working as a reporter for Sol de Acapulco, editor for Foro de Taxco, and contributor to Capial Máxima, while covering several different areas, namely tourism and social media. According to CPJ, he also had a personal website that he used to report on regional crime and violence, and some said to also criticize local authorities. Reports could not confirm, however, if Pacheco's murder was tied to his work as a journalist and, if so, to his alleged criticism of local authorities. Pacheco's family said he did not feel threatened or in danger, but his work did cover Taxco, which is nearby to Iguala, Guerrero, both locations that have been hot spots in Mexico since the 2014 disappearance and presumed murder of 43 students from Ayotzinapa.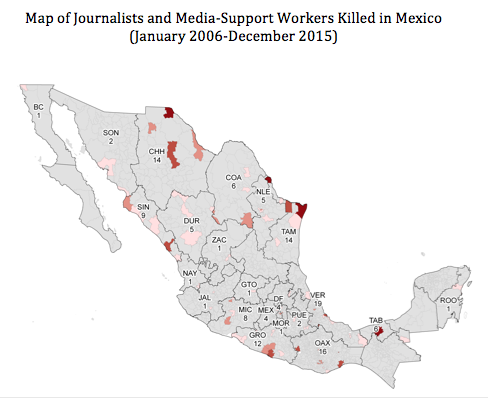 National and international voices immediately condemned Pacheco's murder and called on authorities to investigate and hold accountable those responsible. "The endless cycle of violence against Mexican journalists is devastating the press," wrote CPJ's Carlos Lauría. "Federal authorities must thoroughly investigate the execution-style murder of [Pacheco] and exhaust all possible motives, including links to his work as a journalist." The Director-General of UNESCO, Irina Bokova, echoed Lauría, saying, "I condemn the murder… I call on the authorities to investigate this killing, which undermines the media's ability to do their work and limits people's access to information." Mexico's Executive Commission with Attention to Victims (Comisión Ejecutiva de Atención a Víctimas, CEAV) and the Office of the Special Prosecutor for Crimes against Freedom of Expression (Fiscalía Especial para la Atención de Delitos cometidos contra la Libertad de Expresión, FEADLE), which operates under the Attorney General's Office (Procuraduría General de la República, PGR), have since launched an investigation into Pacheco's death, beginning to interview the victim's family in early May.
Pacheco's death reflects Mexico's continued status as one of the most dangerous countries for journalists. Mexico was the sixth deadliest country in the world in 2015 for journalists, with four media workers murdered in the year out of 49 worldwide, according to CPJ. Only France (8 journalists), Brazil (6), South Sudan (5) Bangladesh (5), and Iraq (5) had more. Of the four journalists killed in Mexico in 2016, according to CPJ only one, Marco Hernández Bautista (January 21 in Oaxaca), was killed with a confirmed motive. The murders of the other two, Anabel Flores Salazar (February 8 or 9 in Veracruz) and Moisés Dagdug Lutzow (February 20 in Tabasco), were unconfirmed. Pacheco's case is still being investigated.
Justice in Mexico's recently released annual report, "Drug Violence in Mexico: Data and Analysis Through 2015," further explores the numbers behind the dangers for journalists in Mexico. Using its Memoria dataset, which is less conservative than CPJ's because it takes into account cases of both media workers and journalists who may have been victims of intentional homicide for a variety of motives not limited to their reporting, Justice in Mexico has identified at least 132 journalists and media-support workers murdered in Mexico from 2000 to 2015. The vast majority of these deaths (123) occurred in or after 2006. In 2015, Justice in Mexico entered 15 media workers into the Memoria dataset, the same number recorded in 2014.
Sources:
"Journalist Anabel Flores Salazar death in Veracruz highlights danger members of the media face in Mexico." Justice in Mexico. February 17, 2016.
"Mexican reporter shot to death in Guerrero state." Committee to Protect Journalists. April 25, 2016.
Press Release. "Director-General urges investigation into murder of journalist Francisco Pacheco Beltrán in Mexico." UNESCO. April 27, 2016.
"Drug Violence in Mexico: Data and Analysis Through 2015." Justice in Mexico. April 29, 2016.
"PGR atrae investigación del asesinato del periodista Francisco Pacheco." Noticieros Televisa. May 4, 2016.
"10 Journalists Killed in 2016/Motive Confirmed." Committee to Protect Journalists. Last accessed May 7, 2016.
"36 Journalists Killed in Mexico since 1992/Motive Confirmed." Committee to Protect Journalists. Last accessed May 7, 2016.
"Memoria." Justice in Mexico. Last accessed May 7, 2016.