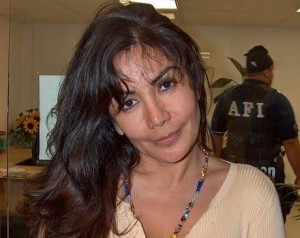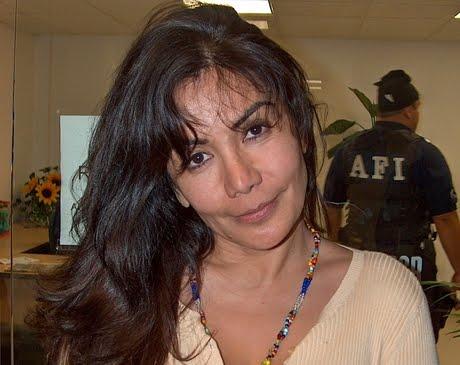 02/09/15 (written by cmolzahn) – On February 6, a federal tribunal in Jalisco, Mexico absolved Sandra Ávila Beltrán (54), dubbed "Queen of the Pacific" by the Mexican government, of the money laundering charges for which she has served a prison sentence since 2007. The court also ordered her release from the Tepic, Nayarit prison where she has been serving a seven-year sentence the following day. Ávila Beltrán's arrest was one of the most high-profile, and earliest arrests made under the administration of President Felipe Calderón in his military-led campaign against Mexico's drug cartels, begun in late 2006. She has also been convicted of drug trafficking charges in the United States. Ávila Beltrán is the niece of Miguel Ángel Felix Gallardo, founder of the Guadalajara Cartel in the 1980s, and is also related to Rafael Caro Quintero. Both men have been held responsible for the death of U.S. DEA agent Enrique "Kiki" Camarena.
Sandra Ávila Beltrán was arrested on September 28, 2007 in Mexico City along with her boyfriend at the time, Colombian cocaine trafficker Juan Diego Espinosa Ramírez. She was initially charged with possessing cocaine, but was absolved of these charges in 2010 due to Mexico's Attorney General's Office (Procuraduría General de la República, PGR) not providing sufficient evidence. A year later she was brought to trial in Nayarit on money laundering charges. Despite a federal judge denying her extradition to the United States, she was brought there to face cocaine trafficking charges. In April 2013 she agreed to admit to providing financial help to her boyfriend, Espinosa Ramírez, and was sentenced to 70 months in prison. Due to time already served in prison in Mexico, she was released in August of the same year, and deported back to her home country, where she was again arrested and sentenced to five years in prison on money laundering charges. She was due to be released from prison in 2019. However, the federal judge granted Ávila Beltrán's appeal on the grounds that she had already served time for the charges for which she was currently in prison. Both her sentences in the United States and in Mexico stemmed from allegations that she had funneled drug proceeds to then-boyfriend Espinosa Ramírez, to avoid his arrest. As such, the PGR was not granted the opportunity to appeal the decision to release Ávila Beltrán.
While the U.S. and Mexican governments held her up as a key link between the Sinaloa and Juárez cartels and Colombian drug trafficking organizations, both failed to successfully prosecute her for charges beyond money laundering. Nevertheless, Ávila Beltrán, born into the Beltrán and Quintero families, was held up by both the U.S. and Mexican governments as a trophy victory in the fight against organized crime and drug trafficking. Both governments also alleged that she was instrumental in establishing drug smuggling routes along Mexico's Pacific coast and into California, earning her the nickname "Queen of the Pacific." Ávila Beltrán has consistently maintained her innocence, and when asked after her arrest in 2007 how she earned her money, she replied that she did so through selling clothes and working in real estate. Due to a lack of substantive evidence against her, neither government was able to convict her of the more serious crimes they alleged she had committed, and following her recent release from prison, there are no remaining outstanding charges that can be brought against her.
Sources:
Barajas, Abel. "Ordenan liberar a 'Reina del Pacífico.'" Reforma. February 7, 2015.
Hernández, Anabel. "Tribunal federal ordena liberar a la 'Reina del Pacífico.'" Proceso. February 7, 2015.
"Prevén que La Reina del Pacífico quede libre mañana." El Universal. February 7, 2015.
"PGR no podrá apelar liberación de la 'Reina del Pacífico.'" El Universal. February 7, 2015.