06/11/19 (written by kheinle) — One of the defining pillars of President Andrés Manuel López Obrador's (2018-2024) presidential campaign platform was his commitment to root out corruption in Mexico. Just six months after taking office, his administration has made some advances in several cases against high profile individuals and/or government officials. However, such efforts, as described below, also demonstrate just how pervasive the problem of corruption is in Mexico.
Judicial Branch
Allegations recently came forth that implicate members of the judiciary, including those at the highest level of the Supreme Court (Suprema Corte de Justicia Nacional, SCJN).
District Courts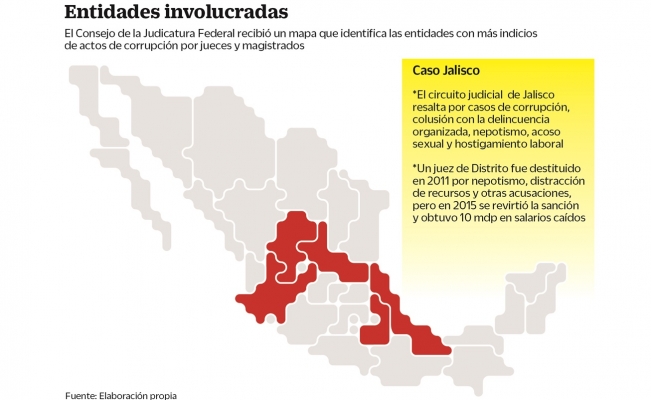 First, news came out in early June that Mexico's Federal Judiciary (Poder Judicial de la Federación) had documented cases of serious abuses by judges and magistrates throughout Mexico from 2014 to 2018. El Universal reported that the cases involved crimes of corruption, collusion, ties with organized crime, nepotism, and sexual harassment, among others. The charges led to 49 district judges and 39 magistrates being sanctioned for their "irregularities" in the courts. Another 15 judges and magistrates were ultimately dismissed from the bench for having committed serious offenses.
Information on the alleged abuses were turned over to Mexico's Federal Judicial Council (Consejo de la Judicatura Federal, CJF) at the end of 2018. The investigations found the states of Jalisco, Puebla, San Luis Potosí, Veracruz, and Zacatecas were involved. Jalisco, in particular, has since garnered the most attention from Supreme Court Justice President Arturo Zaldívar Lelo de Larrea to address the problem. This has included disciplinary action against justice system operators and reassignment of positions, among others. Justice Zaldívar reported success with the focused efforts. "Particularly in the state of Jalisco," he said on May 3, "which is one of the circuits that we had learned had been dealing with all sorts of problems, we have begun to overhaul the circuit. We feel it is important to issue reassignments in order to have new blood."
Supreme Court
Accusations of corruption within the courts then extended to the Supreme Court not a few weeks after. On June 6, the Director of the Mexican Financial Intelligence Unit (Unidad Inteligencia Financiera, UIF), Santiago Nieto Castillo, announced that the Mexican Senate had requested his agency to look into suspicious money transfers made to the overseas accounts of sitting SCJN Justice Eduardo Medina-Mora Icaza (2015-present). An Op-Ed piece by Salvador García Soto in El Universal on June 5 reported that between 2016 and 2018, the United Kingdom's National Crime Agency documented a total of $2.4 million (USD) deposited into Justice Medina Mora's HSBC UK account. The U.S. Treasury Department reported similar transfers in the amount of $2.1 million (USD) into his HSBC USA account during the same time period.
One day after García's piece was published, the Senate initiated proceedings for the UIF to begin its investigation. After the news broke, President López Obrador reminded Mexicans that Justice Medina is not guilty simply because suspicious activity was reported, and that his government was looking into it.
PEMEX and Altos Hornos de México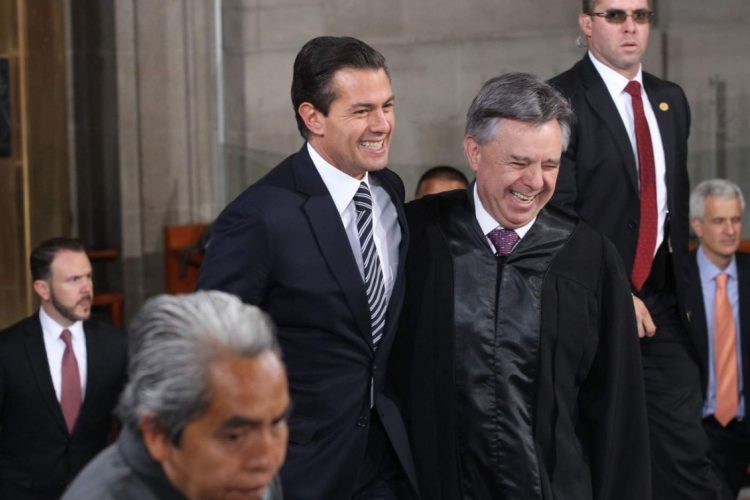 Just before the allegations against Justice Medina-Mora came out, The Wall Street Journal reported that the López Obrador administration launched its first high-profile case against corruption in late-May. The case involves former CEO of Petróleos Mexicanos (Pemex), Emilio Lozoya Austin, and former head of Altos Hornos de México, Alonso Ancira Elizondo. Pemex is Mexico's state-owned petroleum company, whereas Altos Hornos de México is one of the nation's largest steelmakers.
Both men are alleged to have engaged in making illegal payments through their former companies, either with unlawful earnings in Lozoya's case or through shell companies in that of Ancira Elizondo. According to Mexico's Financial Intelligence Unit (UIF), which is overseeing the investigations, "multiple operations were identified in the domestic and international financial system that were carried out with resources that allegedly do not come from lawful activities and which are presumed to have derived from acts of corruption." The López Obrador administration has since frozen the bank accounts and assets of Lozoya and Ancira while the investigations unfold. "The Mexican government's policy is zero tolerance for corruption and impunity," said the UIF Director Nieto Castillo.
The López Obrador Administration
President López Obrador has held up his campaign promise and made corruption one of his biggest focuses since taking office. The high-profile cases against Pemex's Lozoya Austin and Altos Hornos de México's Ancira Elizondo, the dismissal of 15 district judges and magistrates, and the launch of the investigation into sitting SCJN Justice Medina-Mora, however, demonstrate the magnitude of the work President López Obrador has ahead.
In Justice in Mexico's annual report, "Organized Crime and Violence in Mexico: Analysis Through 2018," the authors provided recommendations for ways the López Obrador Administration and others could combat corruption in Mexico. "Mexican civic organizations, international agencies, and foreign governments can help Mexico crackdown on corruption," they argue. "For example, foreign governments can investigate corruption claims and, where appropriate, deny travel privileges or freeze the assets of Mexican nationals wanted on corruption charges." It continued, "International foundations and non-governmental organizations can partner with Mexican anti-corruption agencies and organizations to provide much needed funding and technical assistance."
To read the full report, click here.
Sources:
Calderón, Laura et al. "Organized Crime and Violence in Mexico: Analysis Through 2018." Justice in Mexico. April 2019.
Lastiri, Diana. "Jalisco 'foco rojo' de la corrupción en Poder Judicial." El Universal. May 16, 2019.
Esposito, Anthony. "Mexico takes aim at former Pemex CEO in fight against graft." Reuters. May 27, 2019.
Harrup, Anthony and Juan Montes. "Mexican Investigators File Corruption Charges Against Pemex Ex-CEO." The Wall Street Journal. May 27, 2019.
"Alonso Ancira Elizondo, el dueño de Altos Hornos que detenido en España." Milenio. May 28, 2019.
Guthrie, Amy. "Mexico freezes oil exec, steel accounts in corruption probe." The Associated Press. May 28, 2019.
"Today in Latin America." Latin America News Dispatch. May 29, 2019.
Lastiri Diana. "Destituyen a 15 jueces por acoso y corrupción." El Universal. June 4, 2019.
García Soto, Salvador. "Opinión: Las transferencias millonarias del ministro Medina Mora." El Universal. June 5, 2019.
Álvarez, Carlos. "Unidad de Inteligencia Financiera analizará depósitos a ministro Eduardo Medina Mora." Zeta Tijuana. June 7, 2019.