05/11/2021 (written by scortez) – On April 19, a group of police officers were attacked by drones rigged with explosives in the municipality of Aguililla, Michoacán. State authorities suspect that the Jalisco New Generation Cartel (Cártel Jalisco Nueva Generación, CJNG) is behind the incident that left two police officers wounded. The drone attack comes as the Tierra Caliente has erupted in violence between CJNG and United Cartels (Cartéles Unidos), a drug trafficking organization with roots in Michoacán, for territorial dominance. Police officers were conducting an operation to clear several roadblocks set up by the CJNG outside the city when two drones rigged with explosives attacked the group. Two officers were injured and have since been released from the hospital. 
The assault was confirmed by the Secretary of Security of Michoacán (Secretaría de Seguridad de Michoacán). Authorities have yet to release further details into the drone attack, but they believe that the drones involved are nearly identical to two others found inside the vehicle of a CJNG member in August 2020. The drones seized in 2020 were filled with plastic explosives and ball bearings, designed to inflict severe damage upon impact. The head of the Secretary of Defense (Secretaría de Defensa, SEDENA), Luis Cresencio Sandoval, said that the CJNG has, in recent years, been using explosive drones in the states of Jalisco, Guanajuato, and Michoacán. He also minimized the severity of the attack and believes that the rigged explosives are not a pressing security issue. Although the Army approved $9.6 million in September 2020 to be spent on a national anti-drone system, indicating that SEDENA takes the cartel's weaponization of drones more seriously than they publicly let on.
This is not the first time CJNG has violently attacked authorities in the area. In 2019, 14 police officers were killed in an ambush in El Aguaje, a smaller town in the municipality, by CJNG members. The CJNG left handwritten messages that accused the officers of working for the United Cartels. Attacks against security forces have ramped up since the February 2020 extradition of Rubén Oseguera González, the son of Nemesio Oseguera Cervantes aka "El Mencho", to the United States. This attack marks a continued trend by the CJNG to target authorities without the fear of consequences.
Battle for Aguililla
The municipality of Aguililla has recently become the center of conflict between CJNG and United Cartels. The Tierra Caliente region is an area long disputed by organized crime groups because of its opium cultivation and ownership of drug trafficking routes. The city of Aguililla also holds symbolic value to CJNG as it is the birthplace of "El Mencho." On May 4, the cartel draped a banner underneath an Aguililla highway that issued a warning for United Cartels and declared that "El Mencho" is cementing his presence in the region.
One month prior, on April 1, eight decapitated bodies were found in the town of La Enramada. At the time, the State Attorney General of Michoacán (Fiscalía General del Estado de Michoacán, FGE) indicated that their killings were a result of a confrontation over territory between the CJNG and United Cartels. On April 15, the Governor of Michoacán, Silvano Aureoles, publicly acknowledged the state has been permanently in dispute between different criminal groups by stating, "There is a permanent threat from criminal groups from the Jalisco side and the confrontation between the groups that are operating or have been operating for a long time in the area of Buenavista, Tomatlán, Tepeque, and Aguililla," ("La permanente amenaza de células delincuenciales del lado de Jalisco y la confrontación con las células que están operando o que operan desde hace mucho tiempo en la zona de Buenavista, Tomatlán y Tepeque y Aguililla."). Many of the residents have been fleeing the city fearing that they would be caught in the crossfire.
As police continue to conduct operations to clear CJNG roadblocks that have completely cut off access to certain towns in the municipality, other areas remain under CJNG control. In the town of El Aguaje, the streets are marred with evidence of conflict that includes shell casings, walls riddled with bullets, and CJNG checkpoints. There is a state police presence in the town, but the dominant figure is the CJNG militant members blocking access to El Aguaje. They are dressed in camouflage uniforms with "CJNG" inscribed on their bulletproof vests and armed with high-caliber weapons.
Emerging Technologies Raise Questions about Security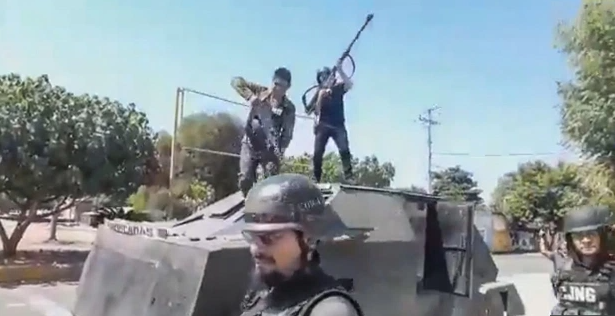 CJNG's Expanded Arsenal Raises Questions about Security
Since its inception in 2009, CJNG has been ascending to become one of the most powerful and militarized cartels in Mexico. CJNG has been previously known for its militancy and usage of military-grade assault weapons, but the drone bombing marks a significant escalation of the cartel's use of sophisticated weapons.
Recently in March 2021, CJNG showed off two modified armored trucks through the streets of Aguililla. The move was meant to send an intimidating signal to the rival cartel that they are fully equipped to engage in conflict. CJNG has been particularly adept to use technology to advance its strategies in the region. Dr. Robert J. Bunker, Director of Research and Analysis at C/O Futures, a security-focused consultancy firm based in Claremont College, CA, said, "This cartel is well on its way to institutionalizing the use of weaponized drones. None of the other cartels appear to be presently experimenting with the weaponization of these devices." The accessibility to military-grade weapons has been made possible in part because of the high number of arms trafficked from the United States. In the last ten years, there has been an estimated 2.5 illegal firearms smuggled into Mexico.
For security forces, cartel violence remains a real threat to their lives, particularly from the CJNG. The growing militancy of the CJNG demonstrates a security risk for the authorities seeking to maintain order in the region. The 2020 Justice in Mexico Organized Crime and Violence in Mexico special report highlights that in 2019, CJNG claimed responsibility for 47 police homicides-the highest number of any cartel. President Andrés Manuel López Obrador, known as AMLO, faces a dilemma whether to crack down on the growing strength of the cartels or continue his "hugs not bullets" campaign promise meant to splinter cartel recruitment by focusing on social issues. Unlike his recent predecessors, AMLO so far has chosen not to take a heavy-handed approach to counter cartel violence with the exception of the 2018 establishment of National Guard (Guardia Nacional). While focused on social issues, the administration has yet to focus on cutting the supply of weapons from the United States and bolstering the protection of local authorities. Currently, local police officers remain a target for the cartels and as their strength and access to sophisticated weaponry grows, so, too, does the potential for such attacks. 
Sources
Linthicum, Kate. "14 police officers killed in an ambush in Mexico, testing president's security strategy." Los Angeles Times. October 14, 2019.
Serrano, Noé. "Ejército va por sistema antidrones de cárteles del narco." El Universal. September 21, 2020.
Virgin, Yami. "DEA says cartels are arming themselves with military grade weapons coming from the US." Fox San Antonio. February 9, 2021.
García, Jacobo. "El Cartel Jalisco exhibe su poder de fuego con dos tanques caseros por las calles de Michoacán." El País. March 4, 2021.
"Enfrentamiento con el CJNG deja ocho muertos en Aguililla, Michoacán."Animal Político. April 2, 2021.
"Con drones disparan y lanzan granadas contra policías en Aguililla, Michoacán." Animal Político. April 20, 2021.
"Mexico cartel used explosive drones to attack police." BBC News. April 21, 2021.
Hambling, David. "Mexican Cartel Injures Police Officers With Drone Bomb Attack (UPDATE: Second Cartel Allegedly Using Weaponized Drones)." Forbes. April 22, 2021.
Belmont, José Antonio. "El Aguaje, pueblo fantasma azotado por criminales en Michoacán." Milenio. April 23, 2021.
"2 to stand trial for making exploding drones in Mexico." Associated Press. April 24, 2021.
"Advierte CJNG: se acabó violencia en Aguililla." Reforma. May 4, 2021.