05/04/15 (written by cmolzahn-dshirk) Violence and blockades struck the central Pacific state of Jalisco and surrounding areas on Friday, May 1, as Mexican government forces battled the emerging New Generation Cartel of Jalisco (Cartel de Jalisco Nueva Generación, CJNG). An army helicopter was shot down over a rural area of Jalisco, killing at least three soldiers, wounding twelve others, and leaving three others missing. While many celebrated the International Labor Day holiday, CJNG operatives torched businesses and set up roadblocks throughout the state, including the state capital, Guadalajara, Mexico's second largest city. The New York Times observed that the attacks on Friday were the latest among a series of violent clashes that killed four elite Gendarmerie units in March and 15 state police officers in April, and appeared to be a response to federal government efforts targeting the New Generation Cartel.
As noted in the recent report, Drug Violence in Mexico, the New Generation Cartel—in contrast with other groups like the embattled Gulf Cartel, Knights Templar, and Zetas—grew significantly in power and scope over the course of 2014. In response to a recent information request, the PGR revealed in April 2015 that the CJNG is currently operating in its home state of Jalisco, along with Colima, Michoacán, Guanajuato, Nayarit, Guerrero, Morelos, Veracruz and the Federal District. The group gained national attention five years ago, but has spread rapidly over the past year in part due to the weakening of other groups in the region such as the Knights Templar in Michoacán and, according to Alejandro Hope, security director of the Mexican Institute for Competitiveness (Instituto Mexicano para la Competitividad, Imco), relative complicity on the part of the Mexican government since its formation in 2010.
According to an account published by El Universal, the CJNG, allegedly led by Nemesio Oseguera Cervantes, "El Mencho," was formed in 2010 after the death of Ignacio "Nacho" Coronel, who had been the leader of the Sinaloa Cartel in Jalisco, which left a power vacuum in the region that several criminal groups scrambled to fill. Media reports suggest that the May Day violence was triggered by federal efforts to capture Oseguera Cervantes, who was reportedly born in Aguililla, Michoacán, which in the 1990s was home to a drug trafficking organization run by the Valencia family, also known as the Milenio Cartel. Oseguera Cervantes reportedly served as a police officer in Cabo Corrientes and Tomatlán, two small coastal municipalities in western Jalisco, and also served three years in jail in the United States on heroin trafficking charges.  After his release, Oseguera Cervantes continued to work closely with the Milenio Cartel.
Following the 2003 arrest of Armando Valencia Cornelio, the purported leader of the Milenio Cartel and close affiliate of Oseguera Cervantes, the Milenio Cartel was taken over by new leadership and formed an alliance with the Sinaloa Cartel in opposition to the Zetas. However, the group splintered with the January 2010 death of Ignacio "Nacho" Coronel, a top Sinaloa Cartel operative in Jalisco who was targeted and killed in a federal operation. CJNG was one of two groups that emerged, with Oseguera Cervantes as its leader, and remained aligned to members of the Valencia family. The other splinter group, known as La Resistencia and led by Ramiro "El Molca" Pozos González, allied itself with the La Familia Michoacana. The arrest of Pozos González in September 2012 and subsequent blows to the La Familia organization and its successor, the Knights Templar Organization, paved the way for CJNG's ascendence.
According to Jesús Pérez Caballero, an expert on organized crime, drug trafficking and criminal justice in Latin America, the CJNG continues to rely heavily on structures put in place by the Milenio Cartel, which today has been largely dismantled. Pérez Caballero adds that Jalisco's capital, Guadalajara, is attractive to organized crime groups due to its strategic location as a transshipment point, and has played host to several criminal organizations in the past, including the now-defunct Guadalajara cartel, as well as the Sinaloa and Milenio cartels. The city has ample local know-how and infrastructure to facilitate drug trafficking, money laundering, and other criminal operations that may make the CJNG an increasingly important player in Mexico's underworld in the coming years. So powerful is its base in Jalisco that the federal government reportedly opted not to inform the governor about recent operations targeting the CJNG, due to concerns that sensitive information would be leaked by corrupt officials working in the state government.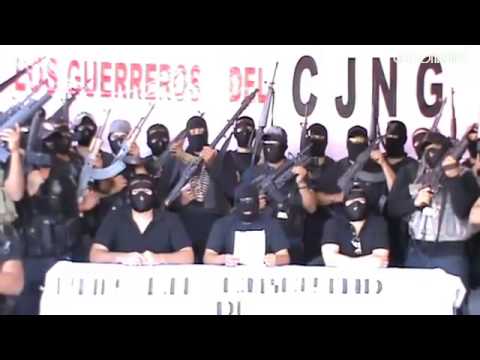 As was the case with the now greatly weakened La Familia Michoacana, the CJNG emerged with the expressed purpose of countering the presence of the Zetas criminal organization in its home state, branding itself the mata-zetas, or "Zeta killers." Since establishing dominance in the region, however, the CJNG has taken an oppositional stance to the Mexican government there, similar to La Familia's open conflict with the Federal Police in Michoacán in 2009-2010. The CJNG has targeted security forces in several attacks in 2015, most notably in an ambush of Jalisco state police (Fuerza Única) agents in early April that left 15 officers dead. The same day another presumed cell of the CJNG killed the municipal police director of Zacoalco de Torres, leaving a sign on his body threatening future attacks against authorities.
An ambush on March 19, 2015 in the Ocotlán municipality left five members of Mexico's National Gendarmerie dead. In all, 21 killings of police officers were attributed to the CJNG over a 20-day period between March 19 and April 7, 2015. The April attack against the unified police led some security experts to argue that the ambush exposed weaknesses in the state's relatively nascent police force. Security analyst Gerardo Rodríguez Sánchez-Lara warned that the attack should alert authorities that the cartel is attempting, or has possibly achieved, infiltration into the state's security apparatus, as well as ties with local authorities, as has been seen in the nearby Pacific states Michoacán and Guerrero.
In addition to its open challenge against Mexican security forces, the CJNG has also recently made its presence known in the state of Michoacán, battling both the Knights Templar organization there as well as self-defense forces. This is likely in a push to insert its influence in Lázaro Cardenas, Michoacán, which houses Mexico's second busiest port by volume (recently reclaimed by Mexican security forces), and thus a valuable resource for moving shipments of drugs and precursor materials for the production of methamphetamines, the group's principle activity.
Authorities have made some high-profile arrests of CJNG members, notably of Rubén Oseguera González, "El Menchito," son of the group's leader, in January 2014 and of Abigael González Valencia, "El Cuini," arrested in February and alleged to have been the group's head of finances. These arrests, however, have not appeared to slow the group's expansion. Moreover, a federal district court judge ordered El Menchito to be released from prison in January of this year on the grounds that there was insufficient evidence against him. Nemesio Oseguera Cervantes is now considered to be a primary objective of both the U.S. and Mexican governments, and his organization is widely regarded as one of the biggest current threats posed to public security in Mexico.
Sources:
Rubén Mosso. "Invade cártel de Jalisco ocho estados y el DF." Milenio. April 20, 2015.
Jesús Pérez Caballero. "CJNG: Cómo adaptarse con éxito a la 'guerra al narcotráfico' en México." Insight Crime. Oct. 14, 2014.
Jorge Monroy. "En cinco años, nuevo cártel se empoderó sin algún freno." El Economista. April 13, 2015.
"Infiltración del Narco en Jalisco," El Universal. May 2, 2015.
Marcos Muedano, "El Mencho: Principal objetivo de las fuerzas federales." El Universal. May 4, 2015.