12/25/19 (written by kheinle) — Guanajuato continues to be one of the most violent states in Mexico. A recent string of 13 police officers killed in just 11 days highlighted Guanajuato's ongoing challenges with crime and violence.
Police Under Attack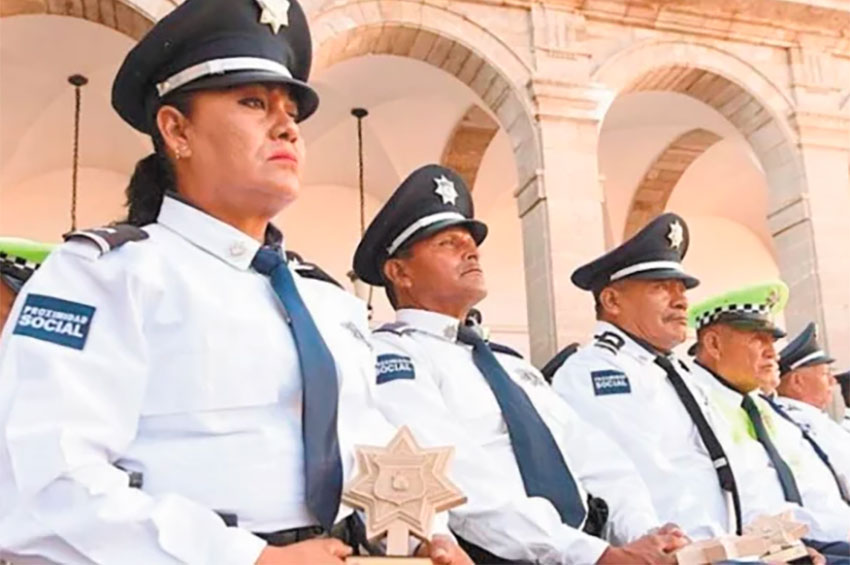 The most recent occurred on December 19 when the head of Acámbaro's Public Security (Seguridad Pública), Jorge Valtierra Herrera, was murdered. He was shot outside his home at 7:15am along with his bodyguard who suffered severe injuries. Valtierra had only been in charge of Public Security since July, having taken over for his predecessor, Alejandro Rangel Amado, who was murdered on July 22. Rangel himself had taken on the position when his predecessor was gunned down just one week before during an ambush at the house of Acámbaro's Commissioner of Public Security.
Just days before Valtierra's December 19 murder, Officer Gabriela Núñez Duarte was shot and killed in Irapuato on December 14 inside her patrol car in Irapuato. Her partner survived the attack. Prior to that, on December 11, police were ambushed inside the Villagrán Police Station after armed members of the Jalisco New Generation Cartel (Cartel Jalisco Nueva Generación, CJNG) rushed the station. Three officers were shot and killed onsite. Four more were kidnapped; their bodies later discovered on the surrounding highway. The CJNG also claimed responsibility in the killing of María Sonia Arellano, a well-respected police officer who was known to be tough on local crime. She was kidnapped on December 10 from her home in Irapuato along with her husband and their son. Arellano's body was later found dismembered with a cardboard message reading CJNG. Just two days before Arellano's death, on December 8, two more officers were killed in León and Celaya. It is not clear if the CJNG claimed responsibility in those killings.
The recent rash of crime in violence in Guanajuato is not new. In July of this year, for example, another outbreak occurred in the state with four attacks on police in ten days. Two officials were killed, including the head of the Attorney General's Antinarcotics Unit (Unidad Antidrogas de la Fiscalía General del Estado, FGE), Francisco Javier.
Federal Response
In response to the outbreak in violence against police, members of Mexico's National Guard (Guardia Nacional) are being sent to reinforce the situation in Irapuato, Guanajuato. The mayor, Ricardo Ortiz Gutiérrez, announced that hundreds of additional National Guard troops were set to arrive on December 17, adding to the 200 already stationed there as part of President Andrés Manuel López Obrador's ongoing security strategy.
Mayor Ortiz Gutiérrez emphasized how important it will be to ensure coordination and communication between the different security agencies on the ground, including local, state, and now federal. "Now what we need to ensure is good coordination, a strong front made up just as much by Municipal Police (Policía Municipal) and State Police (Policía del Estado)," he said, "so that we can truly be more efficient in our work, not going at it alone, but truly a united force that can confront [the challenge]."
Before the influx of new National Guard troops arrived, however, security challenges boiled over with the agents already on the ground. In the early hours of the morning, members of the National Guard clashed with a group of armed civilians in a neighborhood in Irapuato that resulted in the death of one National Guard agent and seven civilians. The day after, Guanajuato Governor Diego Sinhue Rodríguez announced that members of the Mexican Navy (Marina) would be joining the National Guard troops to try to pacify the situation.
Crime and Violence Statewide
In general, violence in Guanajuato has increased dramatically in recent years. Justice in Mexico's most recent "Organized Crime and Violence in Mexico" report published April 2019 explored the issue. The authors found that Guanajuato had the second highest number of intentional homicide cases (2,609) in 2018, according to data from the Mexican National Security System (Sistema Nacional de Seguridad Pública, SNSP). It also was the state with the largest annual increase in total homicides, which saw more than double the 1,084 homicides registered in 2017. Much of that increase was concentrated in the cities of Irapuato (374 homicides) and León (350), but several smaller towns registered dozens of homicides each, including at least nine municipalities with homicide rates in excess of 100 per 100,000. Guanajuato also had the highest number of organized-crime style homicides in 2018 with 2,233, according to data reported by the Mexican newspaper Milenio. It is currently on track to be the most violent state in the nation in 2019, according to SNSP data.
Much of this violence appears to be linked to the problem of petroleum theft (huachicol) and the Santa Rosa de Lima Cartel (Cártel de Santa Rosa de Lima, CSRL). Guanajuato is an alternative distribution channel through which stolen petroleum is transited. It became a hotly contested corridor in 2018 among organized crime groups like the CJNG and the CSRL, the latter cartel which actually came into existence after a split from the former in 2017. The BBC News reports that some of the continued violence threatening Guanajuato can still be attributed to this ongoing battle between the two. Similarly, a Congressional Research Service report detailing organized crime throughout Mexico notes that Guanajuato is also home to turf battles between the CJNG and its rivals Los Zetas and the Gulf Cartel.
To learn more about organized crime and violence in Mexico, click here.
Sources:
Calderón, Laura et al. "Organized Crime and Violence in Mexico." Justice in Mexico. April 30, 2019.
"Policías en la mira, los atacan cuatro veces en 10 días." AM. July 12, 2019.
López, Karina. "Realizan homenaje a policía caído en ataque." El Sol de Bajio. July 16, 2019.
Villafaña, Laura. "El martes llegan 250 elementos de la Guardia Nacional a Irapuato: alcalde." Zona Franca. December 14, 2019.
"Mexico violence: 12 police killed in one week in Guanajuato." BBC News. December 16, 2019.
"Civiles armados atacan a Guardia Nacional en Irapuato; hay 8 muertos." El Universal. December 17, 2019.
"Emboscan y matan a jefe de la policía en Acámbaro, Guanajuato." El Universal. December 19, 2019.
"En menos de un año dos jefes de Policía de Acámbaro fueron asesinados." AM. December 19, 2019.
Espino, Manuel. "Rodríguez Bucio supervisa puestos de seguridad en Irapuato y Salamanca." El Universal. December 19, 2019.
Villafaña, Laura. "Llegada de la Guardia Nacional a Irapuato." Zona Franca. December 19, 2019.
Beittel, June S. "Mexico: Organized Crime and Drug Trafficking Organizations." Congressional Research Service. December 20, 2019.